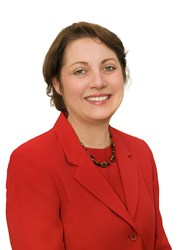 Burlington, MA (PRWEB) August 06, 2013
Moving strategically to expand its experienced management team, mobile sales enablement startup Qstream today announced the appointment of Lisa Clark as Vice President of Marketing. As the use of mobile devices at work skyrockets and sales teams remain challenged to navigate dynamic market changes, Clark assumes responsibility for establishing Qstream's acclaimed platform in fast-growth market sectors worldwide.
Clark brings to Qstream a 20-year track record in building high-value software companies with strong brand equity and market share – from very early stages through product and channel diversification and global expansion. Prior to joining the company, Clark was Vice President of Marketing at Signiant, maker of extreme file sharing solutions for the media and entertainment industry, where she was responsible for launching its flagship cloud solution. Clark also led marketing for several pioneering digital media software companies with successful IPOs or exits, including Avid Technology, Centra Software and The FeedRoom. She holds an MA from Simmons College, and a BA in print journalism from The American University in Washington, DC.
Developed at Harvard, Qstream delivers a continuous, "always-on" mobile sales communication channel that combines gamification, social engagement and personalization with a patent-pending "spacing" approach scientifically proven to increase knowledge retention. In less than three minutes a day, reps respond to scenario-based challenges in the form of questions and answers via any mobile device or laptop. Built-in game mechanics, including scoring and leaderboards, create positive competition among individuals and promote strong user engagement. An onboard analytics engine provides sales executives with detailed insights into organizational knowledge gaps, enabling actionable steps to ensure business goals are met.
"Lisa brings to our team a rare blend of strategic and hands-on marketing expertise, a solid background in establishing new software categories, and a passion for building world-class businesses and brands," said Duncan Lennox, Qstream CEO. "As gamification, BYOD, social collaboration and analytics reshape user expectations, our product enables Fortune 1000 companies and others to manage critical field force knowledge amidst dynamic market, product and regulatory change. Lisa is the perfect leader to help us find and capitalize on these opportunities."
About Qstream
Qstream helps the most successful sales and marketing executives navigate change by reinforcing critical field force knowledge in less than 3 minutes a day. Developed at Harvard, the Qstream mobile sales enablement platform combines personalization, gamification and social engagement with a patent-pending "spacing" approach that drives sales rep engagement. Delivered to any mobile device, Qstream is easy to use, scientifically proven to increase long-term retention and features an onboard analytics engine that provides detailed management insights into organizational knowledge gaps.
The venture-backed company is based in Burlington, MA, with development offices in Oregon and Dogpatch Labs in Dublin, Ireland. To learn more, visit Qstream.com, follow us @Qstream #Qstream or facebook.com/Qstream.