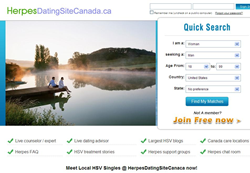 HerpesDatingSiteCanada.ca is one of the Best Herpes Dating Sites in Canada, Toronto, Vancouver, Ontario, Montreal, Quebec, BC....
(PRWEB) August 09, 2013
One in five Canadian adolescents and adults are infected with genital herpes and the number of new infections grows daily. In Canada, genital herpes is the fastest spreading STD among adolescents and young adults up to age 29.
With 20% of the nation's adolescents and adult population infected with the same sexually transmitted disease, one would think there would be more than a couple of dozen social connection options bringing them together. The reality is, larger urban centres, such as Toronto, Montreal and Vancouver will have a handful of dating websites catering to local herpes sufferers. However, most smaller towns and cities across Canada have none at all.
That's about to change. HerpesDatingSiteCanada.ca has recognized the need for a truly national herpes dating site connecting genital herpes sufferers from British Columbia to Newfoundland.
A private poll of herpes positive singles taken by HerpesDatingSiteCanada.ca indicates that 34% of those polled who were living in larger cities, such as Montreal, Calgary, Edmonton, Winnipeg, Toronto, Montreal and Halifax, would relocated to be with the right herpes positive partner. However, in smaller cities the percentage jumps to over 76%. The reason given for the discrepancy in responses between large and small cities is the limited to non-existent number of support groups, and lack of a community of fellow herpes sufferers.
The conclusion is that jobs, schools, colleges, and residences are able to be changed, but genital herpes is permanent. Thus it's deemed more advantageous to adopt the lifestyle of someone with a controllable, yet communicable disease, and go where you must to meet others who will appreciate you, and understand what you have to contend with because they too share the same lifelong challenge. http://www.HerpesDatingSiteCanada.ca is going to do their part to make this happen.