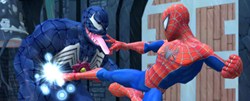 San Antonio, TX (PRWEB) August 07, 2013
The Gamer Stop has released Spiderman Games for Kids. The Gamer Stop is an online gaming site that provides infinite online games to play and develop racing, fighting, logic and time management skills. The site aims to provide games for all ages, genders and expert levels. The Gamer stop is a perfect spot for all flash gaming fanatics.
'With Great Power Comes Great Responsibility' is a statement from the Spiderman saga and one of the greatest statements in all comic book history. The Gamer Stop's new Spiderman games give its players great power and thrusts in them the responsibility to save the world from evil. The games require players to glide across the city and battle Venom and other villains in the Spiderman world. Spiderman games on thegamerstop.com are exciting action oriented games for fans of Peter Parker. This spider bitten radioactive crime fighter will keep players engaged in fighting the villainous minions of the universe. Under the Spiderman games category there are many games like the Ultimate Spider-Man, The Valorous Spiderman, Lego Spiderman, The Amazing Spiderman and many more. Each game is different and every game requires well timed maneuvers and skills out of players. It is a great opportunity for gamers to quench their thirst for crime fighting.
"Who doesn't like Spiderman? I can't wait for some free time to get on thegamerstop.com and fight crimes as Spidey. I'm mostly into racing games, but I love marvel comics too, Spiderman being my favorite. The Gamer Stop is my favorite gaming site with limited ads, no virus threats and unlimited number of games to choose from. What more can a gamer ask for?"- champ@NFS
Although there are many downloadable games, thegamerstop.com offers online games that are more convenient to play on the browser. The Gamer Stop is not just a site for crime fighting, car racing fanatics. It is also a place for people who love logic games, puzzles and word games. There are games that demand great logic skills from the player and there are games that require the players to turn on their detective mode. Farming games, tower defense, hidden objects and Mario are kids' favorite games on the site.