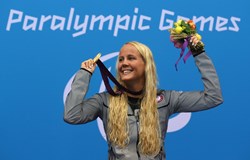 Since my paralysis in 2008 I have dreamed of walking, I have dreamed of what it would be like to be up right and moving towards something again. - Mallory Weggemann
Minneapolis, MN (PRWEB) August 06, 2013
In 2008, Mallory Weggemann walked into a medical clinic to receive an epidural injection for back pain. She never walked out. Five years later, Mallory has launched an Indiegogo campaign: "Against All Odds - The Journey of New Mobility" hoping to one day place one foot in front of the other.
At just 18 years old, the healthy competitive swimmer was suddenly paralyzed from the belly-button down. She has not let her condition hinder her drive for swimming, which she had been doing since age 7. Just under four months after becoming paralyzed Mallory was back in the pool, with her eyes on Gold at the 2012 Paralympic Games. Having achieved that goal, she now desires to pursue the one thing she has wanted since the very day she lost all feeling and movement in her legs, which is to walk. For years, this was something that was deemed impossible, but a new possibility has arisen and in order to achieve her goal, Mallory is asking the public to support her.
"Since my paralysis in 2008 I have dreamed of walking, I have dreamed of what it would be like to be up right and moving towards something again. It is a dream that is hard to be so vocal about because it seems so simple; something that for most of my life was second nature until all of a sudden it was lost. Now I am ready to chase this dream but I know I can't do it alone."
Mallory hopes to use customized leg braces and arm crutches or a walker to realize her dreams. In order to do so, she needs to raise funding to relocate to Michigan this fall for an extended period of time for a specialized program at the Rehabilitation Institute of Michigan. Her insurance has denied any coverage for the braces or rehab and this has left a sky high price tag on Mallory's dream.
To remove some of the burden of cost, Mallory has set up a crowd funding campaign through Indiegogo with a goal of $50,000. The campaign runs through September 8th and there are multiple ways to help; by contributing to this campaign and by sharing via email, Facebook and Twitter with hash tag #againstallodds to raise awareness for Mallory's inspirational dream.
To donate:

Choose the incentive package or contribution amount to donate
Make donation via PayPal or credit card.
To share:

Request a pre-drafted email copy or write a personal email letter that includes the link to donate
Send it to all people that may have the means or desire to donate to this cause, asking them to share the letter as well
Paste the message on all social media sites, Facebook, Twitter, etc.
While Mallory's goal is $50,000 she hopes to raise much more than that. All excess funds will go toward helping people who are in similar situations.
"This is a dream that I am not alone in, there are so many individuals out there in situations similar to mine. It is my hope that through this campaign, I can allow others to believe in the possibilities that are there for them as well, but also help give them the financial means to make their dream a reality. I want this campaign to go beyond myself; I want to allow other individuals to achieve their dream of new mobility as well."
To learn more about Mallory's journey, she has created a blog so people can follow her progression. At http://www.mallory-weggemann.tumblr.com she will be posting personal journal entries detailing this new chapter in her life. People are encouraged to stay up to date and interact with Mallory as she pursues her dream to walk.
###
About Mallory Weggemann
On January 21, 2008, Mallory Weggemann received an epidural injection to help treat back pain; however, by the time it was finished, she was forever changed. Complications with the procedure left the college freshman paralyzed from the belly-button down.
Weggemann has been a competitive swimmer since the age of seven. After her injury at the age of 18, Weggemann chose to return to the pool. In April 2008, her older sister found an article in the local newspaper highlighting the Paralympic Swimming Trials. The meet was being held at the University of Minnesota Aquatics Center in Minneapolis, Minnesota. Still coping with her new disability, Weggemann found one thing unchanged, her love for swimming.
While attending the meet as a spectator with her sister, she met several of the US National Team coaches as well as her current coach. The following Monday, Weggemann returned to the pool and has been swimming ever since. She touts her Paralympic trials experience as life changing. "I have always loved the sport, but when this happened I thought my days of swimming were over and when I realized I could still do it, well I will never forget that moment."
Weggemann broke her first set of world records in Edmonton, Alberta Canada in July 2009. At the 2009 Short Course IPC Swimming World Championships in Rio de Janeiro, Brazil, in November 2009, Weggemann broke six more world records and took home five gold medals. In August 2010, at the Long Course IPC Swimming World Championships in Eindhoven, Netherlands, Weggemann proved herself again in the pool by taking home eight gold medals and one silver. Weggemann finished the meet with nine World Records. In July of 2011, Mallory was recognized for her outstanding performance at the 2010 World Championships by ESPN, when she was awarded the ESPN ESPY for Best Female Athlete with a Disability.
In August 2012, just days after being reclassified at the 2012 Paralympic Games in London, Mallory showcased her amazing abilities by winning gold and setting a Paralympic Record in the 50m freestyle. Mallory also anchored the bronze medal winning 4x100m medley relay team, bringing USA back from fifth place to almost capturing gold! It has been deemed one of the most memorable moments of the London Games, and it inspired many across the world.
Currently, Weggemann continues to train in pursuit of the 2016 Paralympic Games in Rio de Janeiro, Brazil and actively building upon her career outside of the pool through motivational speaking and other public appearances around the world. Mallory will also be featured in The Current, a documentary produced by Make A Hero, a non-profit organization focused on inspiring individuals with disabilities to enjoy the freedom of adaptive sports.