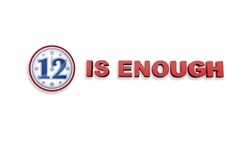 Congress is the finest body of men money can buy. -- Will Rogers
Los Angeles, CA (PRWEB) August 06, 2013
Term limit group 12 is Enough is a leader in the movement to end career politics in Washington with congressional term limits. It's a non-partisan issue supported by 75% of the American people, according to a 2013 Gallup poll. This was demonstrated July 17th on the Howard Stern radio show when liberal Alex Baldwin talked about his desire for 12 year term limits. This is the same idea supported by political opposite Jim DeMint; president of the conservative think tank The Heritage Foundation. DeMint pushed for an amendment to the Constitution last year that was defeated.
Alec Baldwin had many things to say about career politicians on Howard's show. "I believe in term limits. I believe that in the United States Senate and the Congress it should be 12 years and out," Baldwin said. "People say to me all the time, when you talk about term limits they say elections themselves are term limits. I want to say well elections that are fair elections… We need fresh blood, we need fresh people."
When talking about his amendment for Congressional term limits former Senator Jim DeMint said, "We must assure Americans that we are here to serve them and not ourselves. Congressmen and Senators have lots of power. And we know power corrupts. The longer we stay in office the more power we have. All the cases of corruption and bribery that I've seen unfortunately come from more senior members… The only way to permanently reform Washington and discourage corruption is to pass a term limits amendment to the Constitution." Mr. DeMint's entire speech can be seen here.
Ian Clark, founder of the term limit group 12 is Enough, agrees with both these men and believes that now is the time for Americas to come together on one simple solution to improve our democracy.
"There are so many things that we disagree on in America. That's okay and healthy; our democracy is built to have disagreement," Clark said. "But we need to start focusing on the ideas we can agree on. One third of the American people support Congressional term limits according to a 2013 Gallup pool. At the same time Americans give Congress a 14% approval rating."
About 12 is Enough:
12 is Enough has the goal of ending career politics in Washington with term limits. The group was founded by Ian Clark, a leader in the term limit movement. To learn more about the organization please visit http://www.12isEnough.com for more information.