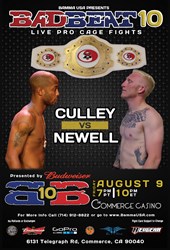 Now we can bring the excitement and energy of our live show to millions of homes. - BAMMA USA CEO Brett Roberts
Santa Ana, CA (PRWEB) August 06, 2013
Another First for BAMMA USA
At 7:00 pm PST on Friday, August 9, 2013 another milestone will be reached by BAMMA USA when its highly successful professional MMA fight series, Badbeat MMA, will be broadcast on live television to over 5 million homes in California and Nevada. "This is a big step for us," remarked BAMMA USA CEO Brett Roberts. "It affirms that the quality of our product is up to television standards. Now we can bring the excitement and energy of our live show to millions of homes. This agreement will open many other doors not only for the promotion but for our fighters as well, and it is a great way to celebrate our tenth show."
About KILM
Virtual channel 64, KILM is an independent television station with studios in Beverly Hills, CA. Under a local marketing agreement, the station is operated by Alki David's 'FilmOn'. Through this arrangement, KILM carries programming from 'FilmOn' and 'My Combat Channel'. The station transmits to 5.6 million homes in both the Los Angeles Metropolitan Area and the San Bernadino-Riverside Metropolitan Area regions. An additional 2 million homes receive KILM programming through the 'Channel 3 Dish Network' in California and Nevada. KILM programming is also made available to a worldwide audience over its website (http://www.filmonla.com).
KILM will broadcast the complete event by scheduling a 4 hour block on their television network, beginning at 7:00 pm PST. Badbeat MMA has plans to carry fighter interviews, event coverage, specialized advertising, and other pertinent content to enhance the broadcast of another action-packed night of MMA action. The much anticipated main event is for the Badbeat MMA Featherweight Championship Title. Chris Culley will try to regain the vacated title against Jesse Newell. Culley was awarded the featherweight belt earlier this year by Badbeat MMA in recognition of his accomplishments inside the Badbeat MMA cage but when he failed to make weight at Badbeat 9, the promotion stripped him of the belt. Tune in to see if Culley can regain the featherweight title or will Newell grab the belt for himself.
Badbeat 10
Presented by Budweiser
Culley vs Newell
When: Friday, August 9, 2013
Doors open at 6:00 p.m.
First fight at 7:00 p.m.
Where: Commerce Casino (inside the ballroom)
6131 Telegraph Road
Commerce, CA 90040
Main Card*
Main Event: Featherweight Title: 145lbs: Chris Culley (17-10) vs. Jesse Newell (7-2)
Co-Main Event: 145: Shad Smith (12-19-2) vs. Noad Lahat (7-0)
150lbs: Justin Linn (3-1) vs. Toby Grear (7-4-1)
170lbs: Jesse Juarez (19-8) vs. Daniel McWilliams (11-23)
135lbs: Victor Henry (5-0) vs. Jeff Martin (10-8)
Preliminary Card*
Featured Fight-170lbs: Ozzie Alvarez (3-2) vs. Alex Suhonosov (2-0)
160lb catchweight: Nick Reale (7-6) vs. Dionisio Ramirez (5-3)
125lbs: Brandon Frunk (0-0) vs. Tim Riscen (1-0)
135lbs: Juan Archuleta (0-0) vs. David Duran (0-0)
155lbs: Arian Sharifi (0-0) vs. Tommy Gavin (0-1)
*=All bouts subject to change
Ticket Information
Ticket prices range from $60 to $120 per person. Online ticket orders available through TicketForce or visiting http://www.BammaUSA.com. VIP Tickets ($130 or $150 per person) or VIP Tables are available by calling 714.912.8822.
About Badbeat MMA
Badbeat MMA is a mixed martial arts promotional organization specializing in creating live entertainment, featuring professional combatants. It is southern California's leading mixed martial arts organization, providing the area with consistent events and opportunities to professional athletes.
Currently stationed out of southern California, Badbeat MMA promotes the area's top local talent from mixed martial arts gyms such as CSW, Knuckleheadz Boxing & MMA, Elite MMA, Kings MMA, PKG, Joker's MMA/Lightning MMA, The Bodyshop, Reign Training Center, Total MMA Studios, Ace Jiu-Jitsu, Cobra Kai, Gracie Morumbi, Cesar Gracie Jiu-Jitsu Academy, The Arena, Subfighter MMA, as well as many others.
Past and current fighters who have worked with BAMMA USA founder Brett Roberts include: Mike 'Joker' Guymon, Vladimir 'The Janitor' Matyushenko, Joseph 'Leonidas' Henle, Georgi Karakhanyan, Gabe 'Godzilla' Ruediger, Jason Lambert, Chad 'The Savage' George, Albert Rios, 'The Real Deal' Chris Beal, Jared 'The Jackhammer' Papazian, and more.
While the promotion prides itself on the motto: "Keep Moving Forward," the ultimate passion for Badbeat MMA is to create an environment in which fighters are truly valued.
Web site: http://www.BadbeatMMA.com
Facebook: http://www.facebook.com/bammanation
Twitter: @BadbeatMMA and @BAMMAUSA