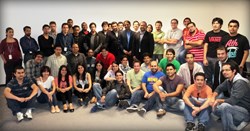 "iOS7 brings a lot of new things to the table that many customers are not aware of and will present a potential risk for them if they don't take the necessary precautions..." Abhijeet Pradhan, CTO of iTexico.
Austin, TX (PRWEB) August 06, 2013
"iOS7 brings a lot of new things to the table that many customers are not aware of and will present a potential risk for them if they don't take the necessary precautions. With this program we are making sure that our customers can have their existing mobile applications ready to run on iOS7 in time for when their users will be getting it this fall. We are also using the new APIs to create completely new experiences by implementing things like motion effects, transparencies, physics and other tools that really bring the user experience into a whole new level," said Abhijeet Pradhan, CTO of iTexico.
iTexico has announced a special maintenance program as a part of their MobiAppCare intitative. This service is for specialized mobile development focused on the re-design of existing mobile applications and updates for Apple's upcoming release of the iOS7 mobile operating system expected this fall.
"A very important part of this initiative is to empower our incredible design team to use their abilities into translating the vision of our clients and take it into a stunning user interface that not only perfectly fits the flat design paradigm but also creates a usable, pleasant experience for the user," said Guillermo Ortega, COO of iTexico and Head of Operations in Mexico.
The design team at iTexico has worked on many mobile projects that range from startups to Fortune 500 companies. They successfully took existing mobile applications for Android and iOS devices and gave them a full design treatment through a complete in-house design process.
iTexico recently introduced a specialized maintenance and support service called MobiAppCare. New and existing clients can maintain their web and mobile applications up-to-date and free of bugs. This allows them to focus on giving the best experience for the end user. With MobiAppCare there is a simple, yet effective way to submit, handle and receive word-class support and development services through a ticket-based system.
"MobiAppCare is like providing HealthCare for our customers, they want to receive the best treatment out there and we are willing to exceed their expectations. This program gives our customers the best way to keep their apps ready for the upcoming changes in the mobile market and we're excited to include especial programs like our iOS7 re-design to allow our customers to be ready for all sorts of innovation happening in mobile," said Anurag Kumar, CEO of iTexico.
iTexico's engineering team is comprised of a large number of developers specialized in both native and cross-platform mobile development technologies that have come to play due to strategic partnerships with industry leaders like Appcelerator and Xamarin.
iTexico's mobile development team has extensive experience in native languages for iOS, Android, Blackberry and Windows mobile devices as well as Xamarin developers. iTexico has the largest team of Appcelerator Titanium Certified Developers outside of Appcelerator's facilities in Silicon Valley. Besides engineers and developers, iTexico's Extended Team as a Service model (eTaaS) allows customers to get professional assistance from Testers, Designers and a complete infrastructure behind them as part of the nearshore team in Mexico.
iTexico leverages talent through their Nearshore Global Delivery Center located in Guadalajara, Mexico and employs more than 60 experienced web and mobile developers as well as mobile designers.
iTexico's Mobile designers use a 12-step process includes things like research, designing the interaction flow, sketching screen layouts, wireframing, mockups, defining the right user experience and providing notes and diagrams, prototyping, user interface design, creating styleguides and gathering all design assets for implementation in the coding phase.