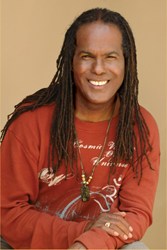 ...the moment you took a human incarnation you instantly became a beneficiary of Spirit's limitless wealth.
Atlanta, GA (PRWEB) August 06, 2013
Rev. Dr. Michael Bernard Beckwith - founder of Agape International Spiritual Center in Los Angeles - will teach from his book, "Living from the Overflow: How to Embody a Consciousness of Wealth," Saturday, September 7, 2013 - 9:30 a.m. at Hillside International Truth Center in Atlanta.
In the book, Beckwith says, "Your journey into a consciousness of wealth begins with the realization that you have already arrived! The truth is, the moment you took a human incarnation you instantly became a beneficiary of Spirit's limitless wealth. The next step is to cultivate a deeper understanding of the meaning of genuine wealth in all aspects of your life."
"Living from the Overflow" is designed to guide workshop participants in:
1) Cultivating a spiritual understanding of authentic wealth
2) Activating the law of abundance in all areas of life
3) Understanding how gratitude and generosity create a magnetic field for wealth
4) Exploring the inner spiritual practices that usher divine communion: Meditation, Affirmative Prayer, and Visioning
5) Learning how a consciousness of wealth grows in line with your personal vision for your life
6) Setting your Intention and focusing your Attention: Your Ticket to Transformation
Rickie Byars Beckwith is the God-Mother of transformational funk. Her artistry will weave throughout the presentation to establish a tone of celebration, inspiration and communion. Rickie will also perform with the New Thought combined choirs at 9:30 a.m. prior to the seminar at 10:00 a.m.
The in-depth morning is expected to find warm camaraderie and enlivening discussion in that can change the course of each participant's life now and assure a place in the conversation of ever-evolving consciousness.
The Michael Beckwith seminar is the opening event of a month-long celebration at Hillside that includes, workshops on topics such as finding a mate, starting a new career, and creating new streams of income - all under the theme: "A New Thought - A New Life."
Tickets are available online at http://www.HillsideInternational.org for only $42 representing Hillside's 42nd Anniversary.
Hillside International Truth Center, Inc. was founded September 7, 1971 by Reverend Dr. Barbara Lewis King. Hillside is a non-denominational, independent New Thought center located at 2450 Cascade Rd. SW, Atlanta, GA.30311.