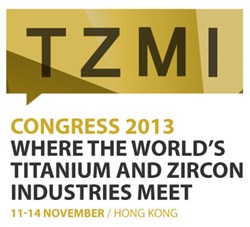 Already 100 delegates have registered, indicating that the TZMI Congress 2013 is shaping up to be another exciting gathering for the industry
(PRWEB UK) 6 August 2013
Now in its seventh year, the industry leading TZMI Congress in 2013 is expected to build on the successful 2012 Congress, where more than 400 industry leaders and representatives from 230 companies attended an in-depth examination of the titanium and zircon industries.
The TZMI Congress will be held at the InterContinental Hotel in Kowloon, Hong Kong from 11 to 14 November 2013 and delegates have the opportunity to attend more than 30 expert presentations covering the latest industry news on titanium feedstocks, TiO2 pigment, zircon, titanium metal, end-use markets and more while also providing an industry-wide networking opportunity like no other.
Speakers already confirmed include industry leaders such as Alkane Resources, Base Resources, Braemar Seascope ,Chilches Materials, S.A., Cristal, DCW Ltd, Hainan Wensheng, Henan Billions Chemicals Co.,Ltd, IRC Limited, Jotun A/S, Panzhihua ZTi Science and Technology Ltd, Sierra Rutile Ltd, Southern Ionics, Tronox and World Titanium Resources along with specialist papers from TZMI.
The TZMI New Projects and Investment Opportunities showcase also returns in 2013, with highlighting the latest industry projects from around the globe.
With the titanium feedstock market continuing to feel the impact of de-stocking by TiO2 pigment producers; TiO2 pigment demand hinging on sustained recovery in the construction sector in North America and Asia-Pacific; and the zircon market appearing to have turned the corner with a lift in demand in the second quarter of 2013; there is no doubt that the atmosphere for sharing of insights will be robust.
Already 100 delegates have registered, indicating that the TZMI Congress 2013 is shaping up to be another exciting gathering for the industry. Early bird registration is available until 21 August 2013 with a range of highly sought after specially negotiated hotel accommodation options available.
For more information or to register please visit http://www.congress.tzmi.com .
About TZMI
TZ MINERALS INTERNATIONAL (TZMI) is a specialist advisory services company for opaque mineral and chemical markets. Established in 1994, the head office is located in Perth (Australia) and other offices in Shanghai (China), Houston (USA) and Durban (South Africa).
TZMI partners with clients from the private and public sectors to provide bespoke solutions across markets and strategic services and technical and engineering services. Our clients range from the world's 500 largest companies through to mid-sized companies and small businesses. TZMI regularly releases market reports and periodicals on relevant subject matters which support the consulting activities and ensure up-to-date, high quality and comprehensive data, analysis and information is provided.
FURTHER INFORMATION
Tracey Kelly – Business Development and Marketing Manager
TZ Minerals International
E: tracey(dot)kelly(at)tzmi(dot)com
P: +61 8 9359 6000