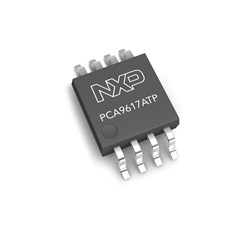 Eindhoven, Netherlands and San Jose, California (PRWEB) August 06, 2013
NXP Semiconductors N.V. (NASDAQ: NXPI) today announced the availability of the PCA9617A Fast-mode Plus (Fm+) I²C-bus buffer, designed for emerging server applications that use DDR4 SDRAM memory. This breakthrough voltage-translating bus buffer allows engineers to design next-generation server systems using new DDR4 technology with the I²C-bus operating at up to 1 MHz, and voltage level translation of 0.8V on the CPU side to 2.5V on the SDRAM module side. NXP continues to drive innovation on the I²C-bus, a widely adopted bus system management and control technology used in virtually all computing and enterprise equipment applications. The PCA9617A is the first Fm+ device specifically designed for servers. It operates up to 1 MHz with normal Fast-mode drive to allow operation on more heavily capacitive loaded buses, but is backward-compatible to Fast-mode and Standard-mode speeds.
The PCA9617A is a CMOS integrated circuit that provides voltage level shifting between 0.8V and 2.5V supply voltages for Fast-mode plus I²C-bus or SMBus applications. While retaining all the operating modes and features of the I²C-bus system during the level shifts, it also permits extension of the I²C-bus by providing bidirectional buffering for both the data (SDA) and the clock (SCL) lines, one bus, split into two sections of 550 pF (max) at 1 MHz. Using the PCA9617A enables the system designer to buffer the load capacitance of the bus, and provide voltage level translation. The SDA and SCL pins are overvoltage tolerant and are high impedance when the PCA9617A is unpowered. Evaluation samples and demo boards are available immediately.
"Our primary server architecture customers asked us to develop an improved version of the PCA9517A that was faster and supported lower voltages for their next-generation architecture. Working closely with them, we released the PCA9617A to allow their engineers to meet the complex specifications of their advanced server architectures," said Stephen Blozis, international product marketing manager, NXP Semiconductors. "NXP will continue to develop innovative ways in which the I²C-bus can be used in advanced systems and enable engineers involved in the design of complex architectures to reach new performance levels."
Package
The PCA9617A is available in TSSOP8 (MSOP8) "DP" and smaller leadless HWSON8 "TP" packages.
Availability
The PCA9617ADP and PCA9617ATP are both are in volume production priced at $0.54 in 10K quantities. Evaluation samples and demo boards are available immediately.
Links

About NXP Semiconductors
NXP Semiconductors N.V. (NASDAQ: NXPI) creates solutions that enable secure connections for a smarter world. Building on its expertise in High Performance Mixed Signal electronics, NXP is driving innovation in the automotive, identification and mobile industries, and in application areas including wireless infrastructure, lighting, healthcare, industrial, consumer tech and computing. NXP has operations in more than 25 countries, and posted revenue of $4.36 billion in 2012. Find out more at [http://www.nxp.com.
Forward-looking Statements
This document includes forward-looking statements which include statements regarding NXP's business strategy, financial condition, results of operations and market data, as well as other statements that are not historical facts. By their nature, forward-looking statements are subject to numerous factors, risks and uncertainties that could cause actual outcomes and results to be materially different from those projected. Readers are cautioned not to place undue reliance on these forward-looking statements. Except for any ongoing obligation to disclose material information as required by the United States federal securities laws, NXP does not have any intention or obligation to publicly update or revise any forward-looking statements after NXP distributes this document, whether to reflect any future events or circumstances or otherwise. For a discussion of potential risks and uncertainties, please refer to the risk factors listed in NXP's SEC filings. Copies of NXP's SEC filings are available from the SEC website, http://www.sec.gov.
For further press information, please contact:
NXP Semiconductors
Global: Hillary Cain
+1 408 518 5227
hillary.cain(at)nxp(dot)com
GC : Jannet Chen
+86 21 22055883
jannet.chen(at)nxp(dot)com
EU: Eureka Endo
+44 795 828 7483
eureka.endo(at)nxp(dot)com
APAC: Preeti Gupta
+65 6603 9022
preeti.gupta(at)text100(dot)com(dot)sg