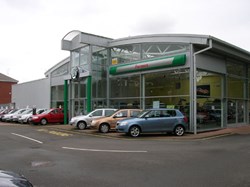 Skoda will compliment our existing range of new cars and give our customers an unparalleled choice of leading car brands."
Nottingham (PRWEB UK) 7 August 2013
Sandicliffe, East Midlands' leading new and used car and van retailer, has announced the acquisition of two Farmers Skoda dealerships in Nottingham and Leicester. The purchase will allow Sandicliffe to add new and used Skoda cars to its portfolio that already includes other trusted brands such as Ford, Kia, Nissan and Mazda.
Sandicliffe will be taking over Farmers Skoda in August and offering its customers a new or used Skoda in Leicester from a state-of-the-art showroom on Groby Road just off the A50 and a brand-new or used Skoda in Nottingham on Mansfield Road near the A60. All drivers will be catered for as Sandicliffe offers all of VW-owned Skoda's range of affordable, refined and reliable models including a new or second hand Citigo, Fabia, Roomster, Octavia, Superb and Yeti.
Steve Averill, a previous director of Farmers, who is being kept on due to his Skoda expertise along with his entire team, described joining forces with Sandicliffe as a "fantastic opportunity", saying: "Currently, we are bursting at the seams as we are so busy. Consequently, we also hope to benefit from Sandicliffe's logistics and marketing expertise."
Paul Farmer, owner of Farmers since 1994, admitted that he was "sad" to be leaving, but believes he does so with the business "in the best shape it has ever been", saying: "It is with some sadness that I leave but I am reassured that Sandicliffe are ideally suited to take the brand forward on its exciting expansion plan in the run up to 2015 and beyond."
Alasdair Stewart, Skoda UK Brand Director thanked Farmers for their nineteen years of "outstanding service to the Skoda brand", but welcomed Sandicliffe to Skoda's extended family saying: "We are pleased to welcome Sandicliffe to our network of over 130 authorised Skoda retailers. Sandicliffe is a great fit with our commitment to delivering excellent customer service and we look forward to working with them."
Reg Tutt, Managing Director of Sandicliffe, is "delighted" to bring another "award-winning brand under the Sandicliffe umbrella" saying: "Skoda will compliment our existing range of new cars and give our customers an unparalleled choice of leading car brands."
He believes that Sandicliffe and its customers will benefit from Farmers "hard work and expertise" adding: "It's been a smooth and amicable transfer and existing Skoda customers should see no change to the high levels of service they have enjoyed at Farmers in Nottingham and Leicester."
About Sandicliffe
Established in 1948, Sandicliffe has grown to become one of the East Midlands' largest, most recognisable and well-respected new and used car dealerships. The family-run new and used car specialist has expanded to be made up of ten locations across the Midlands in Leicester, Loughborough and Melton Mowbray. It has cemented contacts within the industry to represent the likes of Ford, Mazda, Kia, Nissan and now Skoda; offering new and used car sales, servicing, repairs, MOTs, parts and body shop facilities.
Press contact
For more information, please contact Nigel Falkiner on (01159) 395000 or at nigel.falkiner(at)sandicliffe(dot)co(dot)uk.