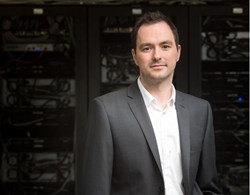 By offering the next generation of bandwidth capability, it is our vision that businesses are not constrained by limitations in technology, bandwidth or timescale.
(PRWEB UK) 6 August 2013
The new carrier grade network means that C4L will be able to bring together communications, cloud and connectivity to introduce products and services to market much faster and more efficiently than ever before, potentially reducing network and data centre installations from a month to a day.
The IP network was designed for C4L by Alternative Networks (Alternative), using Juniper MX transit routers and Extreme metro-switching hardware for scalability, maximum security and resilience. Alternative is one of the most experienced providers of IP infrastructures and data centre solutions in the UK and a long-standing Juniper Elite Partner and Extreme Platinum Partner.
"There is significant demand for increased bandwidth from our customers, with data consumption and internet usage growing 50% per year," explains Matt Hawkins, Chairman of C4L. "Our own expanding colocation footprint, new cloud service adoption and complex network designs have helped drive this. We recognised that whilst access circuits of 100Mbps & 1Gbps are common in data centres, 10Gbps are rapidly becoming the norm; growth to 40Gbps and even 100Gbps is already being discussed, so we needed to address this performance demand."
Alternative worked with C4L to develop, test and implement this entirely new network solution which brings together the Juniper core network and Extreme edge access network products, to ensure the lowest latency and highest density available. Alternative is also providing the management and support for the network across C4L's multiple London and Manchester data centres. All C4L connected sites will benefit from diverse fibre optic connectivity and DWDM technology deployed over a private dark fibre network delivering.
"Alternative was the only supplier who offered the experience of implementing both Juniper and Extreme technologies in parallel," continues Matt Hawkins. "By offering the next generation of bandwidth capability it is our vision that businesses are not constrained by limitations in technology, bandwidth or timescale. We are constantly challenging the industry and expect to be providing 100Gbps connections in the near future."
ENDS
About C4L
C4L is a leading data centre colocation and connectivity solutions provider, with access to over 100 UK data centres and more than 300 globally. C4L offer a range of services including colocation, connectivity, cloud and communications. With their own data centre located on the South West coast and a fully privately owned, high-capacity, 1-100Gb capable fibre-optic network, utilising equipment from leading technology vendors such as Cisco. This network links multiple data centres across the UK using a diverse fibre optic backbone and DWDM technology to provide very high performance.
C4L clients include government agencies, FTSE 250 companies, international financial institutions, system integrators, top 100 VARs, resellers and many of the UK's network carriers. Our entire business is committed to customer satisfaction and quality of service and we have achieved certifications such as ISO9001 & 27001 to demonstrate this. C4L was the 2012 winner of HSBC's South West Business Thinking initiative, and has been ranked in the Deloitte Technology Fast 50 and Fast 500 EMEA, as well as the Sunday Times Microsoft Tech Track 100.
For more information visit http://www.C4L.co.uk/pr, or Tel: Jade Yarham +44 (0)8000 470 481 Ext 736.