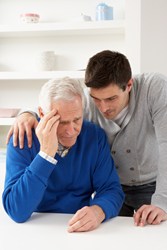 Iron deficiency can be treated very easily with iron supplementation and by modifying diet to include more iron such as dark green leafy greens, cereals, and wholegrains.
London (PRWEB UK) 6 August 2013
There is a substantial body of evidence that shows pro-active managing and treatment of vascular disease can assist in keeping the brain healthy, and possibly even prevent the early onset of dementia in the +60 age bracket.
An overall healthy lifestyle decreases risk of dementia as people age, which is why those in the +30 age bracket, or even younger, need to be aware of the necessity of controlling blood pressure and hypertension, which increases the likelihood of people with mild cognitive impairment to eventually have dementia later in life.
"Dementia might not take hold until later in life but the accumulated insults to the brain that can contribute to its onset can begin decades before," says clinical neuropsychologist Nicola Gates from the Centre for Healthy Brain Ageing (CHeBA) at the University of NSW. She believes there is a need to get out a loud message about maintaining brain health that targets people long before they reach their 60s. "People don't realise they can start influencing how well their brain ages from a young age – it's time we took a whole-of-life-span approach to preventing dementia." 1
Studies have already linked the obesity epidemic to increased risk of high blood pressure, metabolic syndrome, cardiovascular disease, stroke, renal failure, peripheral vascular disease, obstructive sleep apnoea, and type 2 diabetes mellitus. In fact, people with this form of insulin resistant diabetes are two-to-three times more likely to face an Alzheimer's diagnosis, in part because of vascular complications.
Epidemiological studies show that in addition to cardiovascular disease, high blood pressure and diabetes, high blood cholesterol is an important risk factor for dementia, including Alzheimer's. People who already exhibit signs of dementia and test positive for high levels of homocysteine, an amino acid in the blood, are more likely to respond well to large doses of B vitamins, which research has shown can reduce the rate of brain shrinkage by half in elderly people with memory problems and slow the progression of dementia. 2
In another study that lasted over a period of 11 years, and was conducted by the University of California - San Francisco, Dr. Kristine Yaffe, found that in a group of 2,552 older adults between the ages of 70-79 there was nearly 41 percent higher risk to those who had anaemia at the onset of the study, in developing dementia than those who were not anaemic.
Anaemia occurs when there is a drop in the red blood cell count or when there is a lack of haemoglobin, the protein that carries oxygen, in the red blood cells. This can be caused by iron deficiencies, unseen internal bleeding, diseases, or as a side effect of medications, and is known to cause heart problems.
It affects nearly a quarter of people over the age of 65 and is generally treatable, often with inexpensive supplements and a change in diet. Though previous research suggested a link between anaemia and deteriorating brain function, this is the first long-term connection that shows vulnerability to dementia in those lacking iron in the blood.
"Anaemia is common in the elderly and occurs in up to 23 percent of adults ages 65 and older," said Dr. Yaffe, a member of the American Academy of Neurology, "There are several explanations for why anaemia may be linked to dementia. For example, anaemia may be a marker for poor health in general, or low oxygen levels resulting from anaemia may play a role in the connection. Reductions in oxygen to the brain have been shown to reduce memory and thinking abilities and may contribute to damage to neurons."
These various studies underscore the need to focus on getting regular exercise from the beginning of adulthood, which should include cardio stimulation, and maintaining a healthy diet based on sufficient dairy, meat, fish, fruits, vegetables, cereals, low alcohol, and the ratio of monounsaturated to saturated fat whish will ensure a low body mass index. Getting proper sleep, and keeping the mind active through regular use will go a long way in reducing the risk of dementia and vascular diseases later on in life.
ChemistDirect Superintendent Pharmacist advises: "Iron plays an important role in the body's metabolism, playing a vital role in the transportation of oxygen around the body in red blood cells. The most obvious symptoms of iron deficiency are tiredness, shortness of breath, and a pale complexion. If you suspect you are iron deficient you should see your doctor for some tests. Iron deficiency can be treated very easily with iron supplementation and by modifying diet to include more iron such as dark green leafy greens, cereals, and wholegrains".
References
1. http://www.smh.com.au/lifestyle/diet-and-fitness/blogs/chew-on-this/we-should-be-heading-off-dementia-at-30-heres-why-20130805-2r8er.html
2. http://www.sciencedaily.com/releases/2012/10/121005134619.htm
3. http://www.neurology.org/content/early/2013/07/31/WNL.0b013e31829e701d