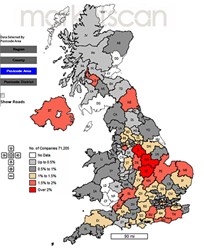 Chichester, West Sussex (PRWEB UK) 9 August 2013
Marketscan, the Chichester based database marketing specialists has introduced an innovative new mapping product called SmartMap™ which is designed to map the location of sales leads, selected from its database of UK Businesses.
This unique interactive mapping addition provides users with powerful fresh insights into the regional and local concentrations of their selected contacts, enabling missed opportunities to be identified and scarce resources to be focussed on areas where they matter most.
Why SmartMap™?
Marketscan has brought a number of innovations to the Direct Marketing field during its 30 years in business and this latest brings a new real life dimension to computer generated list selections. SmartMap™ shows graphically how target prospect selections are distributed geographically, by region, county or postcode.
The density of businesses in any area is represented by a colour, as shown in the attached example – the greater the density, the more intense the colour; the final display is known as a thematic map. Each colour represents a range of values, expressed as a percentage of the total selection; the number of businesses in the selection is also shown.
For the map to be of value in assessing the location of opportunities or distribution of markets, it must be possible to spot the geographic spread of any selection, whether it is national or regional, a few hundred or a hundred thousand addresses. SmartMap™ provides an optimum solution by the use of a new Marketscan development known as 'Intelligent Banding', which automatically adjusts the band ranges to give the best possible display for any given selection. Even small differences in sales potential can be seen, allowing valuable resources to be focussed into the most rewarding areas.
The map is also 'interactive' with pan and zoom functions and the ability to select whether information is displayed by region, county or postcode. Results are given in real time, thereby tracking the effect of every change in the selection as the client makes them.
The geographic distribution of Marketscan's entire database of UK Business can also be displayed, enabling the user to make comparisons between any chosen selection and the total available universe.
Free help and advice on how mapping techniques can improve your lead generation programmes is readily available from the company's skilled team of data advisors.
The old adage that 'a picture is worth a thousand words' is borne out by the powerful visual impact of SmartMap™ displays, which are ideal for use in presentations, sales force territory allocation and strategy planning.
To learn more about Marketscan and SmartMap™, visit (http://www.marketscan.co.uk).
About Marketscan
Marketscan was founded in Chichester, West Sussex in 1982 and is still an independent company today. It specialises in providing contact data, database optimisation and analytics for the business to business market. Expert personal service and a unique database of UK Businesses have been key elements in the Company's success.
As a founder member of the Direct Marketing Association, the Company is committed to professional standards. Experienced staff work closely with clients to help turn marketing opportunities into profitable realities.