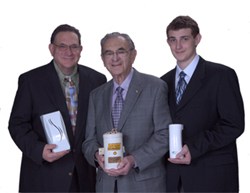 I look forward to what my son, Bryan, will bring to the table next.
(PRWEB) August 06, 2013
Bringing the next generation on board is a common aspiration for those who run family businesses. Just ask Arnold Zlotnik of Pestco Inc who welcomes his son, Bryan Zlotnik into the fold, just as his father before him did over 40 years ago.
"In the mid-1940s, my dad Milton operated the world's first commercial air freshener service routes. He used a product invented by my uncle, Bob Surloff. It was the first fan operated air freshener called Air-Scent®. A few years later, my dad added pest control to his service offerings and Pestco was born. In the mid-1970s, I revitalized the Air-Scent® service line in addition to expanding our commercial pest control offerings and I look forward to what my son, Bryan, will bring to the table next," said Arnold Zlotnik, President of the Pestco Group.
Arnold goes on to say of Bryan, "He is extremely intelligent and very well qualified to take on the responsibilities being offered and I will be committed to working with him to provide him with the exposure, involvement and the operating experience he needs."
Bryan graduated from Duquesne University in 2013 with a degree in International Business and Marketing. Bryan enjoys working with his father and says that he is always learning something new. "He just has so much knowledge and his responses to different situations are automatic. I'm always trying to pick up on the way he [Arnold] handles even the smallest of details."
Pestco Inc, founded by Milton Zlotnik, has rich roots in the Pittsburgh area. Pestco was forced to relocate back in 1995 when a devastating fire destroyed its entire facility in Braddock. Pittsburgh proud, however, the company relocated to its current home in RIDC Industrial Park in O'Hara Township where it has remained for the last 17 years.
About Pestco Inc:
Pestco, Inc. is the nation's only commercial service firm of its kind to actually manufacture most of the products it uses. Pest control solutions, air fresheners, odor control products, ambient scent systems, fragrances, washroom hygiene products and more—all made locally by Pittsburghers in the 80,000 sq. ft. North Pittsburgh facility. To find out more, visit us at http://www.pestco.com.