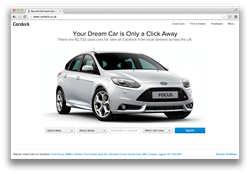 We are delighted to announce that Cardeck has reached its next milestone of advertising 50,000 cars in just under five months since its launch
London, UK (PRWEB UK) 7 August 2013
Cardeck, the automotive website that helps people across the UK to buy and sell used cars, has advertised its 50,000th car – in just five months since the launch of the site.
Cardeck.co.uk launched in March 2013 with the aim of putting those looking to buy a used car in touch with second-hand dealerships in their area. Users are able to search for a specific model of car and find exactly which dealerships in their area have that model for sale.
Dealers wishing to advertise on the site can take advantage of Cardeck's generous package, which includes unlimited photographs per car advertised, branded dealer pages, analytics and stock performance reports and a first class, dedicated support team. What's more, new customers are eligible for a 30 day free trial, with absolutely no obligation to continue.
As well as advertising cars for sale, dealers are able to list the services their dealership offers, such as vehicle finance, MOTs, part exchange and contract hire.
Commenting on the milestone, a company spokesperson for Cardeck said: "We are delighted to announce that Cardeck has reached its next milestone of advertising 50,000 cars in just under five months since its launch.
"As a company we are immensely proud of the service we offer, with a 97% satisfaction level amongst dealers advertising on the site. The fact that we've now had 50,000 cars advertised on the site is a clear indicator of the site's popularity with both dealers and buyers."
Since its launch earlier this year Cardeck has seen a rapid increase in the number of dealers advertising on the site, with some of the UK's largest dealers now showcasing the vehicles they have available. Car dealers have sold over a thousand used cars via Cardeck.
From Aston Martins to Volvos and everything in between, people looking to buy a used car will find a wide range of vehicles available for sale in their area by using Cardeck's simple search tool.
For dealers, Cardeck offers a very simple pricing plan, with prices starting at just £390 per month. There are no set-up fees and no hidden charges.