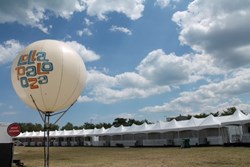 (PRWEB) August 08, 2013
Lollapalooza returned to Grant Park in Chicago, Illinois on August 2 – 4, 2013 with a larger-than-life roadshow bringing music, culture, and community to fans from all over the continent. Over the years Lollapalooza has expanded, now spanning over 115 acres offering multiple stages and an ever-more diverse array of 130+ artists from hip-hop, electronica, reggae, indie, rock, modern roots and many more.
As the festival has grown so have the rental needs which are required to service the farmers market, gourmet food stands, artist lounges, VIP corporate hospitality venues, arts and crafts area, recycling stations, various beverage areas along with the staff/operational command centers. In order to accommodate the sold out crowds, reported to be over 100,000 people per day, Arena Americas was selected as the official rental company for 2013. Arena Americas is providing a large quantity and selection of tenting, tables, chairs, linen, flooring, lighting and fans to this much anticipated event which is the second largest music festival in the world.