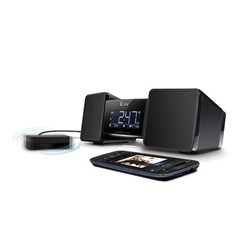 "iLuv's Back-to-School line of accessories allows students to enhance their mobile devices to the fullest extent, all while providing style, protection and ease-of-use."
Port Washington, NY (PRWEB) August 06, 2013
iLuv Creative Technology, the premier provider of the most comprehensive line of accessories for the mobile lifestyle, is providing students with an abundance of mobile accessories just in time for school. From stylish headphones and earphones to Bluetooth speakers and keyboard cases, iLuv has everything students need to head back to school fully equipped and in style.
"It is important that students protect and enjoy their devices, considering how much they've invested in their new technology in the first place," said Jason Park, Marketing Manager at iLuv. "iLuv's Back-to-School line of accessories allows students to enhance their mobile devices to the fullest extent, all while providing style, protection and ease-of-use."
iLuv's Back-to-School products include:
Syren
Outfitted with a strategically located full-range speaker and bass radiator, the Syren has sound that surpasses all expectations. The top and bottom firing ports deliver powerful 360-degree sound in addition to having a built-in microphone and speakerphone for hands free phone calls. The Syren is also equipped with NFC-enabled Bluetooth® so users can forget about annoying cables.
VibroBlue
Heavy sleepers and the hearing impaired can rest easy with VibroBlue, an alarm clock with built-in speakers that takes an innovative approach to waking up with a vibrating 'Shaker'. VibroBlue gives users the option to wake with a traditional alarm such as the radio or music on your phone with or without the 'Shaker.' Not just an alarm clock, VibroBlue is Bluetooth-enabled with built-in speakers, and a USB charging port.
MobiRock
Take wireless technology to a whole new level. MobiRock is capable of both streaming music and charging Qi-enabled smartphones wirelessly. Packed full of features, this speaker boasts jAura® technology for high fidelity acoustics, emitted through full-range speakers and a passive radiator. MobiRock is also NFC-enabled for effortless Bluetooth® pairing. Carefully designed with creative elements such as backlit, touch-sensitive controls and a flared shape, MobiRock is both functional and beautiful.
ReF™
The ReF™ were specifically designed to fulfill the growing consumer demand for accessories that look as good as they perform. These headphones meet that demand by combining fashionable elements and premium technology to produce a product that wins approval from fashionistas and techies alike. The next addition to iLuv's Fashionology® series, the ReF™ are available in red, black, blue, or white. Consumers can plug these headphones into any iOS device or Smartphone to enjoy hands-free conversations or their favorite music and enjoy the rich, deep bass and precise treble.
FitActive®
The award-winning FitActive® earphones feature an in-ear brace that keep ear buds secure without interfering with glasses, goggles, caps or headbands. The ear buds are shaped differently from traditional earphones so that users can focus on their music and stay alert at the same time. The FitActive® earphones were creatively designed to perfectly suit the needs of active people who enjoy being outdoors.
CEO Folio (iPad & iPad mini)
Sometimes users need more than just a case for your tablet. As more and more students use the iPad and iPad mini to take notes and check references, there is a growing demand for an organizational case that will not only protect the device but also keep important, school materials together. The CEO Folio does all of that with effortless, refined style.
Chairman Folio
Made with genuine leather, the Chairman Folio contains a multipurpose, folding center panel that serves as screen protector and a platform for the included Bluetooth® keyboard. It also features a retractable kickstand to prop your iPad up at an ideal viewing angle.
SimpleFolio for GALAXY Note 8
Sometimes the best solution is the simplest one. That's certainly the case for Simple Folio, a minimalist case for the GALAXY Note 8.0 that efficiently protects with timeless style. It secures the tablet in a portfolio construction and also converts into a stand to allow you to view movies and videos comfortably. Simple Folio meets all your needs without distraction.
Pricing and Availability
iLuv's Back-to-School products are available at iLuv.com and select retailers, and have an SRP of $39.99-$199.99.
Follow us on Twitter @iLuv_World, Facebook at iLuv Creative Technology, Instagram at iLuv_Creative_Technology, and Pinterest at iLuv Creative Technology.
About iLuv
iLuv Creative Technology, the premier provider of the most comprehensive line of accessories for Apple, Samsung and Smartphone devices, rapidly delivers products for today's discriminating consumers. Since inception, iLuv has amassed a total of 35 prestigious awards including 6 red dot product design awards, 4 prestigious iF Design Awards, 2 Good Design Awards, and 23 CES Innovation Awards. iLuv was also recognized with 1 Global iBrand Top 20 award. These awards serve as recognition for our innovative design and engineering across a range of mobile accessories, including headphones, adapters, speakers and chargers. Headquartered in New York, iLuv is a division of jWIN Electronics Corp., a leading consumer electronics company since 1997. All iLuv products are conceived, designed and developed in New York and continue to lead in quality, value, design and innovation. Learn more about our distinctive range of products and why iLuv means Innovative Lifestyle Unquestionable Value® at http://www.iLuv.com
iLuv® and Innovative Lifestyle Unquestionable Value® trademarks are the exclusive properties of jWIN Electronics Corp. and are registered with the U.S. Patent and Trademark Office, and may be registered or pending registration in other countries. All other iLuv® trademarks, service marks, and logos may be registered or pending registration in the U.S. or in other countries. All other trademarks or registered trademarks are the property of their respective owners. © 2013 iLuv Creative Technology.
Media Contact:
Melissa Hoistion
R&J Public Relations
(908) 722-5757
mhoistion(at)randjpr(dot)com
# # #