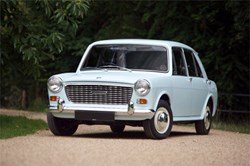 ...at the end of the day, it isn't always about the cheapest policy but the reassurance of being in safe hands.
(PRWEB UK) 18 August 2013
With the British economy slowly picking up it is still important to make sure we are still getting the most for our money, particularly when it comes to items such as insurance, which drivers simply cannot live without. Lancaster Insurance is on hand to offer some guidance to help classic and modern car owners save some cash on their insurance.
What is a classic car scheme?
Mike Edgeley, Lancaster Insurance's Managing Director, explains "Looking after a classic car can be very different to a modern car, and the needs of the owners can vary. There are many different types of classic car scheme and a lot of confusion surrounding what exactly qualifies a car as a classic." There is currently no straight forward answer to this question as some insurers will allow cars from as young as 10 years, whilst some others suggests a more conservative 25 years. There are also 'future classic schemes' for cars such as the Porsche Boxster, although again, this is a contentious subject for many in the classic car industry.
Top Tip to Keep Classic Insurance Down;

If the classic is only driven a few miles a year, or perhaps only during the summer months, this could mean a smaller premium as many classic specialist insurers offer discounts for low annual mileage.

How many people are listed on the policy? The more people insured to drive the more drivers could be paying for their insurance. If there are any young drivers (under 25 years old) or aged over 70 they could be pushing up the premium. Any additional drivers with convictions or claims could also increase the price; if they don't drive it take them off.

The general rule of thumb is the more valuable the classic vehicle the higher the insurance as the recovery costs during an accident are likely to be greater. However, a benefit of many classic car policies is including an agreed value providing reassurance that if the worst happens the vehicle will be correctly covered.

The safer a vehicle is the lower the risk of theft and damage, so if the classic is kept off the road or in a locked garage the insurance cost should also be lower. Having an alarm and immobiliser fitted to a classic or vintage car could also help keep premiums down.

With a specialist classic car insurance arranger like Lancaster Insurance being a member of a relevant classic car or enthusiast club can see additional discounts of up to 25% (dependant on scheme and criteria).

If the vehicle is off the road over the winter months or for restoration work, getting laid up cover rather than a full policy can offer not only a cheaper
insurance policy, but still peace of mind in case anything goes wrong. Or if the car will be off the road for a longer period, it may be worth declaring it SORN (Statutory Off Road Notification) rather than insuring it.

Lancaster's specialist classic team are knowledgeable about classics, the industry and can appreciate an owner's needs, so can help tailor a policy to suit. As at the end of the day, it isn't always about the cheapest policy but the reassurance of being in safe hands.
Please take reasonable care to answer all questions honestly and to the best of your knowledge. If you don't your policy may be cancelled or treated as is it never existed or your claim rejected or not fully paid. Always double check any paperwork received for any errors.