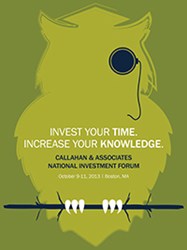 "By 'looking under the hood' investors will become more educated and aware about the differences between similar looking securities."
Washington, DC (PRWEB) August 06, 2013
Callahan & Associates and TRUST Mutual Funds are excited to announce Kevin Heal, Vice President of Sales and Business Development with Callahan Financial Services as a speaker at the National Investment Forum taking place October 9-11, 2013.
Heal provides over 25 years of experience in trading and sales of mortgage-backed securities in the Wall Street environment. Heal explains his session as, "by 'looking under the hood' investors will become more educated and aware about the differences between similar looking securities." He will utilize his hands-on knowledge in this interactive learning session to help attendees better understand the key factors to consider when evaluation a security.
This session was originally delivered at the January 2013 Callahan Investment Forum. Attendees rated this as one of the most valuable sessions. "Kevin's approach provides a learning experience that leverages the insights and tools of an investment manager," remarks Jay Johnson, President of TRUST Mutual Funds. "We're very focused on providing practical take-a-ways credit union professionals will actively use once they return to their offices."
Particular emphasis is placed on the role of the investment portfolio as a liquidity source to fund loans and as an earning asset to maintain net interest margin. The conference is restricted to credit unions, allowing open exchange of ideas in a collegial environment.
Register by August 14, 2013 and receive $100 off the standard registration. TRUST investors CUFSLP Partners, and Callahan Leadership clients receive an additional $100 off registration. Contact Carissa Heckathorn at checkathorn(at)callahan(dot)com to obtain your special code. Get more details about the conference at http://www.callahan.com/investmentforum. By attending you will receive up to 11 CPE credits.
About Callahan & Associates
Callahan & Associates is an independent voice within the credit union industry providing trusted industry expertise in a comprehensive package allowing credit unions and credit union partners to deliver the best services and products to their audiences.
Trust Mutual Funds
Trust Mutual Funds is a family of institutional mutual funds offered exclusively to credit unions. Callahan Financial Services is a wholly owned subsidiary of Callahan & Associates and is the distributor of the TCU mutual funds. Goldman Sachs Asset Management. L.P. is the investment adviser of the TCU mutual funds. To obtain a prospectus that contains detailed fund information including investment policies, risk considerations, charges and expenses, call Callahan Financial Services, Inc. at 800-CFS-5678. Please read the prospectus carefully.