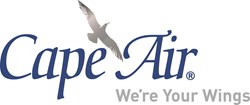 "It is great to see ridership at Ogdensburg breaking records. The airline service at Ogdensburg provides affordable access to the U.S. air transportation system for both the North Country and Canadians."

- Linda Markham
President of Cape Air
Ogdensburg, NY (PRWEB) August 06, 2013
Cape Air's passenger count is soaring at the Ogdensburg International Airport (OGS). In July, Cape Air carried a record number 1,047 passengers. This is the highest passenger count that Cape Air has carried in one single month since they began service in September 2008. Cape Air provides 3-daily flights from Ogdensburg International Airport to Albany through to Boston and beyond. Canadian travelers made up 19% of the originating traffic.
The Ogdensburg Airport draws in both U.S. and Canadian travelers with their short security lines, free parking, and low fares. The average fare since Cape Air's inception at Ogdensburg International Airport is $53.56 each way.
"It is great to see ridership at Ogdensburg breaking records. The airline service at Ogdensburg provides affordable access to the U.S. air transportation system for both the North Country and Canadians," said Cape Air's President, Linda Markham.
The North Country Airport Alliance and Cape Air launched a $20,000 advertising campaign last month that markets the Ogdensburg, Massena, and Saranac Lake Airports. This campaign is focused on the local communities at large and the Canadian population within close proximity to the borders.
Cape Air has distribution agreements with a host of online travel agencies, including Expedia, Orbitz and Travelocity, enhancing the exposure for the cities served. In addition to Cape Air's ticketing and baggage agreements with most major carriers, a unique interline partnership with JetBlue Airways allows Cape Air cities to appear on JetBlue.com, increasing visibility via this heavily-trafficked channel.
"With Cape Air's interline capability, which puts Ogdensburg on JetBlue.com, we are seeing increased ridership by US and Canadian passengers," said Markham. "Word is getting out about the low-fare options at Ogdensburg."
Cape Air has spread their wings into downtown Ogdensburg with their ticket office at 318 Ford Street. The ticket office opened its doors in April and is open Monday-Friday from 9 a.m.-5 p.m. and Saturday from 9 a.m.-1 p.m. You can book tickets from Ogdensburg to Albany or Boston or book a through itinerary to the destination of your choice.
Now in its 24th year, Cape Air is one of the largest independent regional airlines in the United States annually flying over 700,000 passengers to destinations around the world including New England, New York, the Caribbean, Florida, the Midwest and Micronesia. With a fleet of seventy-four Cessna 402s and two ATR-42s, the employee-owned company operates up to 850 flights per day. Based in Hyannis, Massachusetts, Cape Air also operates flights under the Nantucket Airlines brand. Cape Air is a codeshare partner with United Airlines and American Airlines in the Caribbean and American Airlines in the Midwest. In Micronesia Cape Air operates as United Express. In addition, Cape Air has ticket and baggage agreements with most major airlines. Cape Air's unique brand of customer service, MOCHA HAGoTDI,* has earned the airline accolades as 'Best Airline' on Nantucket, Martha's Vineyard and in the United States Virgin Islands. The airline has been recognized for outstanding philanthropy in the communities it serves and Cape Air Founder and CEO Dan Wolf was recipient of the Ernst & Young Entrepreneur of the Year™ Award.
*Make our Customers Happy and Have a Good Time Doing It!