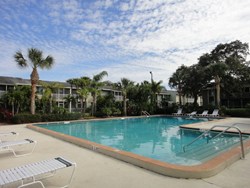 The developments on-site management team are offering two years' rental assurance at current market rates, emphasising their confidence in this development.
St Petersburg, Florida (PRWEB UK) 7 August 2013
25 units at rock bottom prices have been secured by the North West Investment firm, with prices set to rise by $3,000 per unit once the initial allocation is sold out.
The units are already rented out on 12 month contracts, ensuring investors of an immediate income, and the developments' on-site management team, who has never seen vacancy rates dip below 98% in three years of management, are offering two years' rental assurance at current markets rates, emphasising their confidence in this highly sought-after development.
The residence contains luxury features including two sparkling swimming pools and a state-of-the-art fitness centre; the crystal blue shores of St Pete's Beach are also only a stone's throw away.
St Petersburg is the 4th most populated city in Florida and this fantastic new development is perfectly positioned to give residents the best of both worlds; adrenaline-seekers are only six minutes away from seeing a Tampa Bay Rays home run at the 40,000 seater Tropicana field, while those who prefer the quiet life are only a ten minute drive away from Fort De Soto, named America's top beach for 2009 by Trip Advisor.
A state which recovered most resolutely from the 2007 housing crisis, prices are now hitting pre-bust heights in Florida, with condo prices hitting five year highs in 2012 and single-family homes sale prices rocketing up 12% in the last year to $168,000. The rental market also continues to flourish with tenants leasing a remarkable average of 200 properties per day in South Florida's three major counties, at a median rental of more than $1,200 monthly for a 1,000 square-foot residents.
With assured financial rewards for investors and attractions which draw over 57 million visitors a year, the Sunshine State is the perfect place for investors and sun-worshippers alike.
Individual units are now available to purchase through Knight Knox International with prices starting at £38,717.
To register your interest, please contact Knight Knox International on +44 (0)161 772 1370 or visit the website.
Knight Knox International
Market leaders in worldwide property investments, Knight Knox International offers an extensive range of property and services on a global scale, from beach-front condos in Thailand and Turkey, to prime coastal land in Florida and boutique student accommodation and new-build residential projects in the UK.
If you would like to discuss further opportunities within the property market, please contact Knight Knox International on +44 (0)161 772 1370 or visit the website to view the full range of properties available.