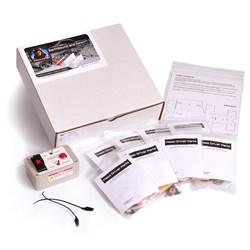 Students must design, build, and optimize the necessary tools for the stranded astronauts to survive!
Huntington, W. VA. (PRWEB) August 06, 2013
Desolation: STEM compels students to solve problems through a hands-on process involving design, development, evaluation, and improvement. Launched in early 2013, the series now comprises a total of four modules.
In Earthbound and Down™ Mass Driver, a lunar construction crew will be constructing a mass driver to launch Helium-3 shipments from the Moon to Earth. Students take on the role of a HAWC engineering team tasked with designing and testing a mass driver for this application.
Students will design, build and test a mass driver, and map the flow of energy through the system as it is converted from one form to another.
In High and Dry™ Solar Water Heating, two survival tasks weigh heavily on the team: Re-establishing radio contact with Earth and mining ice from Shackleton crater to produce badly needed drinking water. While attempting to repair the lunar radio relay, Jake Plissken is gravely injured. Alice Torres is torn between helping Plissken and designing a water heater to ensure the group's survival.
Students will measure the thermal energy delivered to an area, design and build a device to concentrate and capture this energy in order to melt ice, and determine the efficiency of the device.
About Desolation: STEM - In the year 2040 the world's energy crisis has been mitigated. Nuclear fusion reactors power the electrical grid. The source of a critical element for fusion, Helium-3, is the moon. Government oversight of Helium-3 mining operations is a hotly contested issue in the international community. With the world on the brink of war, all travel to and from the moon has been suspended indefinitely. Four lunar miners from the High Altitude Work Corporation (HAWC) are trapped at the south pole in a malfunctioning outpost with only their equipment, emergency rations, and problem-solving skills to survive desolation.
Students must design, build, and optimize the necessary tools for the stranded astronauts to survive! Each kit contains enough materials for 8 lab groups (up to 32 students), and is designed for grades 7-12.
About Crosscutting Concepts - We develop, manufacture, and market innovative hands-on science education products for high school and post-secondary education. Our mission is to empower students by creating relevant science education products. Our passion is to show students the freedom that a strong understanding of science can provide. Crosscutting Concepts is the creator of the Mystery of Lyle & Louise, a premier forensic science curriculum designed for high school and introductory undergraduate education. Learn more at http://www.CrosscuttingConcepts.com.