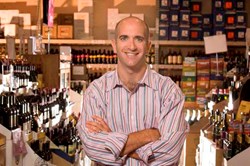 Retailer managers are too focused in the business to focus on the business
Chicago, IL (PRWEB) August 08, 2013
Brian Rosen, former CEO of Sam's Wines and Spirits and current Operating Partner of Evolution Wines and Spirits is turning his unique skill set to helping retailers around the country be successful.
Spending 20 years at the nations leading alcohol beverage retailer, and stints in food service, textile, technology, and as managing director at PricewatehouseCoopers in Performance Improvement uniquely qualifies Rosen to help almost all businesses in the retail battleground.
With proven skills in addressing groups, moderating retreats keynote speaking, leading conference break- outs, team leadership and performance improvement, Rosen has become the "go to" for companies and news outlets as a expert in all things retail.
"We have been fortunate enough to see success in many facets in retail and at some point we want to help other operators and managers be as profitable as they can possibly be"- Brian Rosen
Rosen is available to speak, moderate, consult and educate on all aspects of retail.