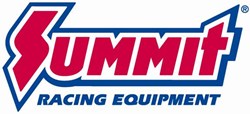 Tallmadge, OH (PRWEB) August 07, 2013
A Be Cool Direct-Fit Cooling Modules is designed to drop into a vehicle with little to no modification required. Even better, the module is capable of keeping engines up to 1,000 horsepower (depending on application) running at the proper temperature. Be Cool even makes modules for cars with engine swaps like the popular LS engine conversions for '60s musclecars.
The Direct-Fit Cooling modules are based on Be Cool's famous all-aluminum radiators. They have two rows of one-inch tubes that will help drop coolant temperatures by at least 20 degrees F. The radiators are up to 40% lighter than comparable OE copper-brass radiators, and have an epoxy-free core that is strong and easy to repair.
OTHER FEATURES
• Single or dual High-Torque electric fans depending on application

Aluminum coolant recovery tank
13 psi billet aluminum radiator cap
Fan wiring harness with 40 amp relay and sending unit
Fan mounting brackets and hardware
APPLICATIONS
Summit Racing offers over 220 Be Cool Direct-Fit Cooling Modules for many popular GM, Ford, and Mopar musclecars and light trucks from 1955 through 2004, plus 1970-2003 Jeep vehicles.
PRODUCT LINK
http://www.summitracing.com/search/product-line/be-cool-direct-fit-modules?tw=Be%20Cool%20Direct&sw=Be%20Cool%20Direct%20Fit%20Modules
Summit Racing Equipment
http://www.SummitRacing.com
1-800-230-3030