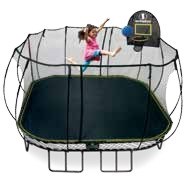 Supported by flexible fiberglass rods, the mat is suspended well above the steel frame clearing the jumper's path of any hard surfaces.
Elmsford, New York (PRWEB) August 21, 2013
Best in Backyards introduces the only enclosed trampoline – the Springfree Trampoline – that's without springs or a steel frame at the jumping surface. The trampoline is supported by flexible fiberglass rods, and the jumping mat is suspended well above the steel frame – clearing the jumper's path of any hard surfaces.
"By removing the springs and frame from the same plane as the jumping surface and adding a flexible enclosure, Springfree Trampoline has reduced product related injuries by 90% "says Rolf Zimmermann, VP Sales for Best in Backyards.
To purchase a trampoline, customers should visit http://www.bestinbackyards.com. The Springfree Trampoline boasts soft edges, is pad-free and maintenance-free, and is free of rusty springs.
Moreover, the trampoline is scientifically proven to be the safest in the world. Particularly, the Flexinet safety enclosure offers sturdy cushioning, so kids are always secure and safely remain on the trampoline.
Research published in the Journal of Pediatrics and Child Health further states that "the soft-edge design has a significantly lower proportion of the more severe injuries." An excerpt from this article details a summary of trampoline injury causes (which the Springfree will help prevent) as follows:
Summary of Trampoline Injury Cause
Cause: Percent
Fall off of trampoline: 48%
Fall onto the frame or springs: 42%
Hit another child on the trampoline:10%
(Source: USA NEISS data; Wallis BA, Acton CHC, Nixon JW, Eager D. "Trampolines: Cause for Concern?" 7th Australian Injury Prevention Network Conference McKay QLD, July 04)
Trampolines also provide valuable health benefits, and are a great outlet for exercise and cardiovascular activity. Additional benefits include those of interval training and low-impact exercise, and such physical activity helps to promote stronger bones, lymphatic drainage, and positive mental health effects.
Visit http://www.bestinbackyards.com to learn more about these amazing trampolines or to find a showroom in New York or Connecticut.