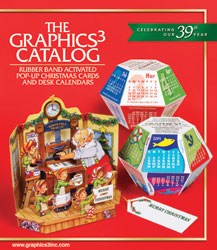 "Getting a great reaction to the Print Shop and the calendars already." said Bob Herlin, Jr., President, Graphics 3, Inc.
Jupiter, FL (PRWEB) August 07, 2013
For 39 years, Graphics3 Inc has been creating unique pop-up promotional calendars, cards and custom dimensional products for corporate and personal use. Their rubber band activated pop-up calendars and pop-up cards mail flat and pop into shape on opening, capturing attention like no flat mail can. And for over 31 years, Graphics3 Inc. has selected the award winning branding firm TFI Envision to create the graphics for many of their unique products as well as their catalog.
For their 2014 catalog, TFI Envision created the graphics for their two all new pop-up polygon calendars – "Big Numbers" and "Just Beachy". The top and bottom panels of the calendars are ready to be imprinted with the customer logo or custom artwork, and acts as a year long, desktop reminder.
TFI Envision worked with Graphics 3 to develop the graphics for their all new pop-up Christmas card ornament "Santa's Print Shop". This delightful, fully dimensional pop-up illustrates Santa busy in his print shop with his elves, while a little mouse scurries along the floor, past a sleeping kitty. Children are peeking through the window from outside, while their puppy guards their sled as the snow is falling on this Christmas eve. The card is both visually engaging and memorable. The tag allows for custom printing of a sentiment, logo or name.
The catalog, designed by TFI Envision, provides large full color imagery that clearly demonstrates the unique dimensional nature of these fascinating pop-ups.
These pop-ups are manufactured in North America and available only directly from Graphics3.
To order your own pop-up cards or calendars, go to http://www.graphics3inc.com/
Since 1975, TFI Envision, Inc. of Norwalk, CT, has specialized in developing strategic design and marketing solutions for branding, packaging, promotion, digital and corporate communications; helping organizations achieve their marketing and communication goals with compelling, consistent messaging that is on brand and on target.