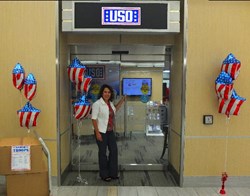 [NTC] is lucky to have employees who take advantage of every opportunity to give back.
Palm Harbor, FL (PRWEB) August 07, 2013
Nationwide Title Clearing, Inc. (NTC), a leading post-closing services provider for the residential mortgage industry, has long incorporated corporate social responsibility (CSR) into its business model with extensive environmental health programs such as paperless payroll and recycling programs. As an extended branch of its community-focused business practices, the Palm Harbor company recently amassed 200 pounds of donations for U.S. troops stationed overseas in conjunction with the United Service Organization, Inc. (USO).
CSR aims to embrace and encourage a positive impact through a company's activities on the environment, community and surrounding public—although the process is typically carried out by multinational corporations on broad social issues, NTC chooses to lend the term to a variety of initiatives, including support of U.S. soldiers stationed overseas. Approximately fifty NTC employees, along with three employees from British Airways and the USO Tampa Bay, Inc., participated in a donation drive for the troops by organizing and contributing items such as:
●Personal hygiene items such as toothpaste, toothbrushes, body wash and moisturizer;
●Razors and sun screen;
●Books and magazines;
●Playing cards;
●DVD movies; and
●Nonperishable snacks and canned food.
This is a cause important to Myron Finley, Chief Legal Officer at NTC and personal advocate for the drive. He understands the influence that NTC's 350 employees can have on not just the Palm Harbor community, but also on the nation as a whole. Finley understands the comforting effect that simple efforts such as donation drives can have on those soldiers missing the luxuries of home.
"[NTC] is lucky to have employees who take advantage of every opportunity to give back," said Finley. "Supplying much needed assistance to our troops is the least we can do, and we are looking into making this an annual donation drive. Being in the armed forces is a huge sacrifice, and sending a piece of home to those who are deployed is a simple way of thanking them for their service."
In addition to its military donations, NTC's CSR program extends to its own community affairs—the company helped to stabilize Palm Harbor by supporting local food banks, as well as by employing and training over 300 nearby residents. Many of NTC's employees also regularly organize and partake in community events such as blood, food and toy drives. NTC executives are currently looking ahead with plans to extend the corporate sustainability practices as the backbone of NTC culture.
For those interested in making donations, please visit the USO Lounge at Tampa International Airport, which is located on the second floor of the main terminal near the British Airways Ticket counter.
To learn more about Nationwide Title Clearing, including its mortgage post-closing services and document processing, visit http://www.nwtc.com.
About Nationwide Title Clearing, Inc.:
Based in Palm Harbor, Florida and founded in 1991, Nationwide Title Clearing, Inc. is a privately-owned leading service provider to the residential mortgage industry, serving mortgage lenders, servicers and investors, including eight of the top 10 residential mortgage servicers in the country. NTC earned the position of #2,730 on the 2012 Inc. 5000 list of fastest-growing private companies in America, ranking #36 in Tampa and #46 in the real estate industry. The company's land records and document experts are able to track and fulfill county document requirements for close to 3,600 recording jurisdictions nationwide. NTC specializes in providing land records research, lien release services, assignment services, final document tracking, document retrieval and other custom business solutions. For more information, visit the company's website at http://www.nwtc.com.