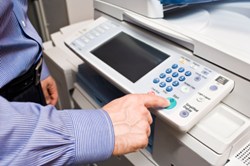 Atlanta, GA (PRWEB) August 07, 2013
A-1 Express, a recognized leader in same-day delivery, distribution and transportation services has announced print document same-day delivery services nationwide. This is in an effort to offer its' clients with more value-added services, promote customer loyalty and increase sales growth. A-1 Express strives to be the best choice for same-day delivery and messenger services nationwide.
Print document services consist of any client that requests a document to be printed and delivered by A-1 Express. All A-1 Express customers can request this service for any document that is twenty pages or less within the select city. The courier will receive the document via e-mail or fax, forward to its' nearest location for printing and delivery the same-day. There is a $20 flat charge for the service, which is included in the overall courier rate.
A-1 Express understands this type of service is critical for clients that have documents which require a by-hand delivery. Within most large cities in the US, A-1 Express can meet this need for its' clients. All clients are recommended to make this type of service request via phone, at which time A-1 Express can confirm the print document service is available within that city.
If this service is requested online, A-1 Express will respond promptly in regards to the print document service to discuss availability and additional service charge. A-1 Express assists its clients 24/7 with any questions or changes regarding their print document service request.
A-1 Express Courier is a leading same-day courier for distribution and freight services throughout the US. From small packages to packages to palletized freight, A-1 Express delivers fast. With superior customer care, courier expertise and modern courier technology, A-1 Express is able to provide optimal logistic courier solutions. From their headquarters in Atlanta, Georgia, A-1 Express services a growing list of over 1,500 clients, including Fortune 500 companies throughout the US.