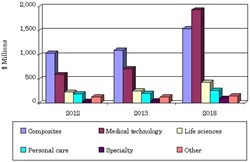 Wellesley, MA (PRWEB) August 12, 2013
According to a new technical market research report, Microspheres: Technologies and Global Markets (Report code: AVM073B) from BCC Research (http://www.bccresearch.com), the global market for microspheres is projected to reach $2.4 billion in 2013. BCC Research expects the market to reach $4.4 billion by 2018, and register a five-year compound annual growth rate (CAGR) of 12.6% for the period 2013 to 2018.
Technological advances are helping microspheres in assuming their new role as a functional additive and enabling technology that offers benefits such as reduced cost and improved product quality. Microspheres are currently used in a wide variety of industries ranging from medical devices to syntactic foams. The swift pace of development experienced by the industry calls for an in-depth analysis that incorporates all the industries and global markets for microspheres and forecasts its direction through 2018. This report from BCC Research examines the spherical microparticles used as components in many advanced materials and composites in the healthcare and personal care industries and in many specialty research and development applications.
The composites industry has been using microspheres as filler material for decades. The market for composites as a market segment was valued at more than $1.1 billion in 2013. This market is expected to reach $1.5 billion in 2018, and register a CAGR of 7%. The use of microspheres in medical technology is a relatively new and evolving industry where new applications for medical microspheres are constantly being discovered. This segment was valued at $719 million in 2013 and is expected to reach nearly $2 billion by 2018, to register a CAGR of 21.9%.
BCC Research expects a significant increase in demand for microspheres from the life sciences markets, which include medicine and biotechnology. These industries require extremely high-quality products and microspheres which are biocompatible, safe, stable, and display desired functionality.
There is a lot of pressure on companies to formulate with eco-friendly "green" ingredients, especially in personal care and medical technology. This creates a developing market for biodegradable microspheres as well microspheres made from natural materials. The number of such products on the market is limited and their high cost makes them cost-prohibitive for the majority of applications, thus making this area promising for research and development.
This report analyzes the global market for microspheres from both the manufacturing and demand points of view. Detailed analysis and market forecasts are provided as per industry, type of microsphere and geographic region. The report describes major players in the industry and examines the recent advances in technology, newly evolving markets, and companies as well other factors influencing supply and demand.
This new report from BCC Research will be of interest to manufacturers of microspheres, marketing executives, entrepreneurs, investors, venture capitalists, and other readers who need to know how large the global market for microspheres is and how fast it is growing. The report will also be valuable to consumers of microspheres, including the composites, paints and coatings, oil and gas, cosmetics and personal care, life sciences and biotechnology, medicine and medical devices, adhesives, and automotive among many other industries.