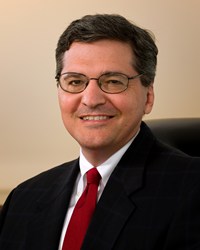 I look forward to working with USPM's dedicated team of professionals to execute on our mission of improving the quality of life for millions of people.
Jacksonville, FL (PRWEB) August 06, 2013
U.S. Preventive Medicine (USPM) has named Robert J. Tazioli as Chief Executive Officer effective August 1, 2013. The appointment signals a renewed focus by the accredited global health management firm on engaging consumers in recognizing and improving their health status.
Mr. Tazioli brings to his new role 28 years of senior management experience with progressive health care organizations. He has directed substantial revenue and earnings growth for health care services, business process outsourcing, managed care, disease/population health management, and software as a service (SAAS) entities.
Mr. Tazioli said, "I look forward to working with USPM's dedicated team of professionals to execute on our mission of improving the quality of life for millions of people. We are committed to helping individuals live longer, healthier, and happy lives, while at the same time reducing their out-of-pocket expenses."
"The Board of Directors unanimously agreed that Rob's impressive track record in the health management movement gives him just the right qualifications to lead our company," said David Gee, Chairman of the Board of Directors of USPM.
About Rob Tazioli
As EVP & Chief Development Officer for Connextions, Inc., Rob was a founding executive team member that grew annual revenue to $135 million in 7 years resulting in a highly successful exit when it was sold to UnitedHealth Group for $325 million. He was responsible for building Connextions' direct-to-consumer strategy that served as the basis for its explosive growth.
Previously, he ran business development for Matria Healthcare (now Alere), one of the largest disease management/population health management companies, which was successfully sold to Inverness Medical. He was the Chief Development Officer for Implantable Provider Group, a leading device benefit management company. He also oversaw the commercialization of Monsanto's Virtually Integrated Health Management System (VIHMS) as their Chief Sales Officer.
For the first 13 years of his career, Mr. Tazioli rose to run the mountain region for Prudential Healthcare, and served as the Senior Vice President and Chief Marketing Officer for Health Net.
Rob graduated with distinction from Georgetown University, receiving a Bachelor of Science degree in finance. He and his wife, Libby, have four children.
About U.S. Preventive Medicine
U.S. Preventive Medicine (USPM) is a leading, cloud-based global preventive health movement focused on saving lives and money by keeping people healthy and better managing chronic conditions before they progress. Innovative products—The Prevention Plan™ web-based health management platform and Macaw mobile health & fitness app—are based on the clinical science of preventive medicine: primary (wellness and health promotion to keep healthy people healthy), secondary (screening for earlier detection/diagnosis) and tertiary (early evidence-based treatment to reduce complications and disability).
The company is accredited in wellness and health promotion by the National Committee for Quality Assurance (NCQA) and disease management by URAC. Awards include the CTIA 2012 Emerging Technology Award for Macaw, the CES Mobile Apps Showdown popular vote for Macaw, Dorland Health's Case in Point Platinum Award for The Prevention Plan and the CDC/NIH NDEP Annual 2012 Frankie Award for the Macaw Mobile Diabetes Manager.