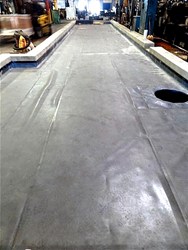 Witt can custom fabricate a flexible membrane liner for any size or shape of containment area
Claremore, OK (PRWEB) August 08, 2013
Soil contamination is a costly liability for both manufacturing facilities and local communities. When operating procedures allow solutions to penetrate into the underlying soil and groundwater, the costs, both remediation and legal, can be astronomical. This is the subject of Jim Rouse's article "Remediating the Good Earth" published in the August 2013 edition of "Products Finishing".
The article features the city of Muncie, IN and their approach to solving a ground water contamination problem. The site in question was the former home of a small metal finishing company. The company had used an inadequate lining system in their basement area. This lining system allowed solution from the "wet floor" process to migrate through the concrete and into the soil and groundwater. When the company closed its business, the city was left with the legal issues and costs of remediating the soil and ground water.
A side bar in the article shows a proper containment lining system as offered by Witt Lining Systems. Witt can custom fabricate a flexible membrane liner for any size or shape of containment area. Because this lining system is not bonded to the concrete the system is unaffected by any cracks that may develop in the concrete. Furthermore, the liner will not chip or flake like a coating, making the Witt lining system virtually maintenance free. These liners can be installed quickly and with no cure time can be put into service immediately after installation. The Witt lining system provides a long lasting containment system that can prevent situations as experienced in Muncie, IN.
The article can be accessed at the Products Finishing website located here.
Witt Lining Systems is located in Claremore, OK. The company manufactures flexible PVC liners used for corrosion resistance in process tanks, storage tanks, vats, sumps, pits, floor and containment areas. PVC brands include Spectra Blue™ PVC liner, Exceline™ PVC liner, and Koroseal® PVC liner along with NSF-61 PVC and Teflon liners. For more information contact 1-800-323-3335 or visit http://www.wittliners.com.