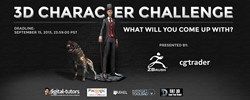 It is extremely important to constantly develop creativity in 3D designer's life
Vilnius, LITHUANIA (PRWEB) August 07, 2013
Since its early days CGTrader.com aimed not only to establish a fair peer-to-peer marketplace for 3D models, but also to bring 3D designers and everyone in need of designs together. The platform is based on community principle, so the company looks forward to push the limits of stereotypical understanding about the online marketplace and 3D design itself.
Together with Zbrush, one of the most respected software packages in 3D, CGtrader.com calls everyone to participate in the 3D Character Challenge. Prizes are a dream of every designer and participation is absolutely free of charge. Competition is open for teams and legal entities. Moreover, the contest is a money-magnet, allowing you to both take part and at the same time to sell your entries. This competition enables 3D community to design anything from a stranger of casual life to inhabitants of far far away future, childhood beasts that still hide under the bed, historical figures, pop-stars, rock'n'roll grands, sci-fi creatures...This list is endless: character inspiration can come from the first American president George Washington to Russian writer Leo Tolstoy or the great exile Dalai Lama.
The idea of this contest is to highlight the importance of constantly developing creativity in designer's life. Moreover, design challenges is a great way to bring the community together by encouraging its members to get involved and share knowledge with each other.
About CGTrader.com:
CGTrader was launched in 2011 as a community-based 3D model marketplace. The company's vision to democratize the market has attracted investors and in early 2013 CGTrader has raised 185,000 Euro from venture capital fund Practica Capital. In August 2013, the company reached the milestone of 22,000 3D models uploaded to the digital library and more than 8,000 registered users, thereby becoming a global platform, uniting 3D designers from all around the world.