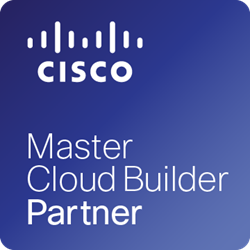 Achieving the Cisco Master Cloud Builder Specialization further defines Nexus as a leading edge provider of cloud architectures and services
Valencia, CA (PRWEB) August 06, 2013
Nexus, a leading national provider of professional, cloud and managed services for advanced IT solutions (http://www.nexusis.com), announced today that it has achieved the Cisco® Master Cloud Builder Specialization. This specialization recognizes Nexus as having the capabilities to build and deploy cloud-ready integrated infrastructures based on Cisco solutions and technology ecosystem partner cloud offerings across storage, virtualization, cloud management and virtual desktop.
"Achieving the Cisco Master Cloud Builder Specialization further defines Nexus as a leading edge provider of cloud architectures and services," stated Mike Heiman, Sr. VP of Engineering for Nexus. "Our goal is to aid companies in Architecting and deploying scalable hybrid-cloud solutions and to provide consultative services to migrate critical business applications and workloads to the cloud enabling our customers to be more nimble, responsive and profitable."
Colin McNamara, Chief Cloud Architect for Nexus said, "Cisco's Master Cloud Builder Specialization is about more than the nuts and bolts of building private and hybrid cloud infrastructure. At its essence, it is about helping customers identify, create, and implement solutions that encompass people, process and technology to realize the benefits of a cloud enabled business. Cisco recognizing us with this Masters Specialization further validates the successes Nexus has had accelerating our customers' transition of people and processes as well as technology to cloud patterns and platforms."
This accomplishment comes shortly after being recognized as the Advanced Solutions West Cloud Partner at Ingram Micro's 2013 Cloud Summit, adding to the commitment Nexus has shown to their partners and customers in their long-term cloud strategy.
"This specialization brings together data center infrastructure, cloud management, eco-partner relationships and cross-vendor solution capabilities like VCE Vblock, NetApp Flexpod and Cisco VXI," said Edison Peres, senior vice president for worldwide channels at Cisco. "It's the customer's 'one-stop shop' for the highest level of competencies for data center and cloud. Nexus's Cisco Master Cloud Builder Specialization is an outstanding achievement."
The Cisco Master Cloud Builder Specialization is granted to a specific group of partners that possess in-depth technology and architecture skills. These partners also have demonstrated customer success in providing sophisticated, value-added Cisco Data Center and Cloud solutions including sales, deployment and services for Cisco data center and cloud solutions. Partners with a qualified data center and cloud practice can achieve a Master Cloud Builder Specialization regardless of certification level.
The Cisco Resale Channel Program provides a framework for partners to build and showcase the sales, technical and Cisco Lifecycle Services skills required to successfully deliver Cisco solutions to end customers. Through the program's specializations and certifications, Cisco recognizes a partner's expertise in deploying solutions based on Cisco advanced technologies and services. Using a third-party audit process, the program validates a partner's technology skills, business practices, customer satisfaction, presales and postsales support capabilities, and other critical factors that customers consider when choosing a trusted partner.
About Nexus
Based in Valencia, CA, Nexus leverages its extensive experience and expertise to enable organizations to Connect, Collaborate, and Create. We do this by providing expertise in end-to-end technology solutions based on six distinct, yet complementary practices: Collaboration, Data Center, Borderless Networks, Business Video and Managed Services. Nexus partners with industry leaders including Cisco, EMC, Microsoft, NEC and VMware to ensure its customers are provided the most comprehensive and competitive solutions. Nexus serves the private sector, from small business to the Fortune 500; and the public sector including local, state, and federal government. Additionally, Nexus has highly specialized vertical market practices including education, retail, hospitality and healthcare where they have developed proprietary applications that turn unified communication into clinical workflow solutions. For additional information, please visit http://www.nexusis.com
Cisco and the Cisco logo are trademarks or registered trademarks of Cisco and/or its affiliates in the U.S. and other countries.