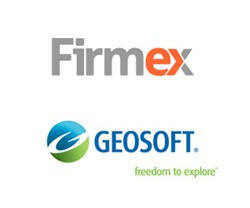 We're excited to partner with Geosoft and extend our secure document sharing offering to mining professionals within their network.
Toronto, Ontario (PRWEB) August 07, 2013
Firmex is a cloud-based virtual data room solution used by mining, finance, legal and corporate professionals to securely share large volumes of sensitive documents outside the corporate firewall. Over 44,000 organizations use the Firmex platform, including 7 of the top 10 mining companies, and 2/3 of the Fortune 500. Firmex is pleased to now also be the preferred data room supplier for Geosoft.
Ranked as one of the Top 150 technology companies in Canada on the Branham300, Geosoft provides software solutions that advance exploration of the Earth's subsurface. Geosoft technology is used by thousands of organisations, including international government geological surveys and agencies; educational institutions teaching the earth sciences; and the most successful oil and mineral explorers in the world.
Exploration companies are challenged to advance their projects and business objectives while faced with significant capital constraints. Storing and sharing documentation associated with stringent compliance and reporting requirements, and rising volumes of corporate, financial and technical information can be time-consuming and expensive. The Firmex and Geosoft partnership provides exploration companies with a turn-key, cost effective and secure document management platform.
"Explorers are facing a lot of pressure when it comes to accessing capital, and here is an opportunity for us to reduce their costs," said Tim Dobush, CEO of Geosoft. "They can now keep their corporate governance information in a secure site, accessible from anywhere in the world. This reduces their overhead costs without compromising security, accessibility and scalability."
"Virtual data rooms are increasingly being utilized by exploration professionals to streamline their portfolios and deepen relationship with their PE partners," explained Joel Lessem, CEO of Firmex. "Above and beyond financial transactions, they are using Firmex to increase operational transparency by being able to share confidential documents with key stakeholders in an organized, secure and instantaneous manner."
"We're excited to partner with Geosoft and extend our secure document sharing offering to mining professionals within their network," Mr. Lessem added.
About Geosoft
Since 1986, Geosoft has helped earth explorers make discoveries through data. The company provides software technology for advanced 3D visualization and analysis of the Earth's subsurface; and solutions for the management and discovery of large geoscience data. With offices across five continents, and a network of international business partners, Geosoft serves thousands of clients within resource exploration industries, government and the earth sciences. For more information, visit http://www.geosoft.com.
About Firmex
Intuitive, affordable, pervasive – thousands of companies choose Firmex Virtual Data Room (VDR) solutions to securely share their highly confidential documents. Leaders in corporate and financial transactions, M&A, compliance, litigation, and procurement value Firmex's ease of use and outstanding support to profitably accelerate their online document sharing and collaboration projects. More information about Firmex can be found at http://www.firmex.com.