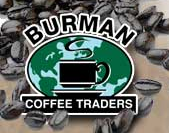 Madison, WI (PRWEB) August 13, 2013
Burman Coffee recently supported the Grounds For Health Annual Auction to help prevent cervical cancer for women in coffee growing industries, as well as announcing a change in management with Kathie Burman joining Burman Coffee as Vice President and CIO, and starting a collection of teas for purchase.
The Grounds for Health Annual Auction supports women in coffee growing communities and industries that don't have access to preventive health checkups and medical support for cervical cancer. Cervical cancer is the #1 cause of cancer death among women, yet it is one of the most preventable and treatable forms of cancer. For this reason, the Grounds for Health aims to provide women in coffee growing communities the assistance they need to prevent and treat cervical cancer. Burman Coffee purchased the Malawi Elan MZUZU AP Women's Fair Trade and the Indonesisan Sulawesi Toarco Mt. Pendemaran to support the cause.
Burman Coffee also recently announced that Kathie Burman from Telephone and Data Systems, Inc. will be retiring for her position as Director of IT Operations and will join Burman Coffee as the new Vice President and CIO.
Additionally, Burman Coffee has recently announced their new tea lines of premium teas. Offering both unique and well-known teas, each tea comes from freshly sourced premium lots. Through long-established coffee relationships with importers and wholesalers, Burman Coffee found top sources for fine teas. The new tea lines include Green Tea, Black Tea, Herbal/Flavored Tea and White Tea. All teas are shipped in sealed ziplock bags for easy storage. For those new to drinking tea or looking for new tea equipment, Burman Coffee also offers all the supplies needed to make the great of tea, including an automatic tea maker, a tea infuser, and an electric water kettle.
About Burman Coffee
Burman Coffee Traders is founded on three core values: treating customers as family, offering the highest quality of coffees, and being a good world citizen. By selecting the finest in coffees, teas and equipment, Burman Coffee Traders aims to provide customers with best quality and value. As part of being a good world citizen, Burman Coffee supports the communities in which coffee farmers farm and harvest coffee. When a purchase is made, all in-stock orders are shipped by the next business day.