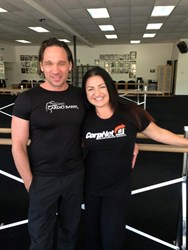 CorpNet has been amazing throughout the entire process. They are extremely responsive and extremely organized. They take care of all the dirty paperwork that we don't enjoy doing.
Westlake Village, CA (PRWEB) August 08, 2013
CorpNet.com, a leading online business document filing company that helps entrepreneurs start a business and keep a business in compliance, announced today that Cardio Barre®, one of today's hottest fitness workouts, has selected CorpNet.com for its document filing needs, including LLC formation.
Richard Giorla created Cardio Barre in 2001 in Studio City, California, based on his 30 years of dance experience and classical training. Cardio Barre is a high energy, no impact exercise class that combines barre work and light weights with continual fat burning motion. Many celebrities have trained with Giorla's Cardio Barre program, including Jenna Elfman, Neve Campbell, Lucy Lawless, Laura Leighton and Dakota Fanning.
When he first founded Cardio Barre, Richard Giorla turned to CorpNet.com for LLC formation. Since then, he also recommends CorpNet to all his franchisees. Cardio Barre currently has 14 franchises in Los Angeles, with a couple more franchises out of state. Giorla plans to take his program global with hundreds of franchises in the next few years.
"CorpNet has been amazing throughout the entire process. They are extremely responsive and extremely organized. They take care of all the dirty paperwork that we don't enjoy doing," said Giorla.
"CorpNet was instrumental in helping my franchisees get started," Giorla added. "They've been priceless and my franchisees love them too. We're artists. We just want to dance. We want to open our businesses and have fun. And that's where CorpNet comes in and handles everything for us."
"I like to say that Richard helps me keep my sanity," said CorpNet's CEO and co-founder Nellie Akalp. "For several years I've been taking ballet classes with Cardio Barre 2-3 times a week. Not only is it an incredible workout, but the whole Cardio Barre experience provides motivational support and encourages me to lead a healthier, more meaningful life. I can't say enough about Cardio Barre and am so pleased that CorpNet can help Richard and his team expand in the coming years."
First launched in 2009, CorpNet.com has helped more than 10,000 small businesses across the country form an LLC or Corporation, file a DBA, keep their business compliant, and more. While a smaller company competing in a crowded marketplace, CorpNet.com has made a name for itself for its personal touch, including friendly in-house phone support.
The company has also been investing heavily in developing a no-cost, value-add tools for its clients and the small business community, including: B.I.Z. (a no-cost corporate compliance tool), free meeting minute templates, and numerous free guides on starting and growing a business.
A video testimonial of Richard Giorla's experience with CorpNet can be viewed here: http://www.youtube.com/watch?v=dHH0iJOz4Mw
About CorpNet.com
CorpNet.com is an online business document filing service that provides new and existing business owners with the most comprehensive, cost-effective services when it comes to starting, protecting, and managing a business. Through its website, CorpNet.com provides business filing services required for a variety of business needs such as: incorporate a business or form a Limited Liability Company (LLC), file a DBA, Doing Business in Multiple States (Foreign Qualifications), close a business (Dissolutions), Registered Agent Representations, Trademark Search and Registrations, and Corporate Compliance services and supplies for all 50 states.
Founded by experienced entrepreneur/attorney husband and wife team, Philip and Nellie Akalp, CorpNet.com is a private company based in Westlake Village, CA. For more information, please visit http://www.corpnet.com or follow @CorpNet on Twitter.