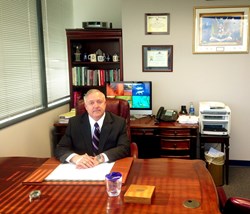 A CIC designation is the most highly respected designation in insurance.
Atlanta, GA (PRWEB) August 19, 2013
John E. Redfearn III, has earned the designation of Certified Insurance Counselor following the successful completion of the program sponsored by the Society of Certified Insurance Counselors. Only 3% of agents and insurance professionals throughout the country have received the CIC designation.
The Society of CIC is a key member of The National Alliance for Insurance Education & Research, the nation's preeminent provider of insurance and risk management education. Redfearn says; "A CIC designation is the most highly respected designation in insurance and obtaining this this certification demonstrates my ongoing goal for professional development in the field of property and casualty insurance."
Facts About John E. Redfearn, III:
Mr. Redfearn is founding Principal and Managing Partner of MD Planning Group, LLC and Fiduciary Solutions, LLC in Atlanta. As managing partner of both companies, he has created and executed the comprehensive marketing plans for both companies. He effectively built from scratch various associational programs for the Medical Association of Georgia: proprietary retirement plan platforms, disability income programs, a long term care program, residential mortgage program, as well as their associational health insurance program.
John E. Redfearn III Designations and Certifications:
Mr. Redfearn has been a student of his profession earning many distinctions and certifications in his career. He is a licensed insurance agent in all 50 states, and operates his own insurance agency in 14 states. Mr. Redfearn holds a professional designation as a Certified Financial Planner (CFP) from the Certified Financial Planning Board of Standards; Chartered Life Underwriter (CLU) from The American College; Certified Senior Advisor (CSA) from the Society of Certified Senior Advisors; and Chartered Financial Consultant (ChFC) from The American College. Additionally, he has successfully completed the national certification exam to earn the Certified Aviation Insurance Professional (CAIP). Now he adds CIC designation to this prestigious list.
If you would like to learn more about the Certified Insurance Counselor certification and program just follow the link: http://www.scic.com/ .
To learn more about John E. Redfearn III and Fiduciary Solutions, LLC; visit his website at http://www.fsinsagency.com.