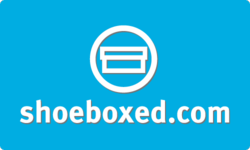 The account sharing feature makes it easy for all parties to stay on the same page when it comes to managing finances.
Durham, NC (PRWEB) August 07, 2013
Shoeboxed, the industry leader in cloud-based receipt scanning, announced Tuesday that users will now have the ability to create additional logins for their accountants, bookkeepers, business partners and spouses.
The account sharing feature enables users to share all of their documented expenses with trusted individuals. Convenient for business co-founders, accountants and even soon-to-be bride and grooms who need to track wedding expenses, the account sharing feature makes it easy for all parties to stay on the same page when it comes to managing finances.
Shoeboxed allows users to send in receipts through free mobile apps, prepaid envelopes, email or their online web clipper. They then scan, digitize and categorize everything into a secure online account. The company is integrated with accounting services like Quickbooks and this account sharing feature promises to expand the service's bookkeeping functionality.
"My bookkeeper was floored," said Cindy Bak, a small business owner from Anchorage, Alaska. "After I gave her access to my account so she could download data from Shoeboxed directly into my QuickBooks account, she could not stop talking about how easy it was and what a great investment Shoeboxed was for my business."
The number of users which can be added to an account varies by plan level. The basic, Lite Plan allows for one user and 50 scans per month while the Classic Plan allows for up to two users and 150 scans. For larger accounts, Shoeboxed offers a Business Plan that permits three users and 500 scans. Their highest plan level, the Executive Plan, allows for 1000 scans per month and up to 10 users.
All Shoeboxed users start out on a 30-day Free Trial and are allowed to share account access starting on day one. Users simply enter the names and email addresses of the individual(s) whom they wish to share their account with and the additional users will then be able to create their own login information. The creator of the account will be able to grant and revoke account access at any time.
About Shoeboxed
Since 2007 Shoeboxed has been the preferred small business expense tracking solution for over 500,000 users worldwide. The pioneers of cloud-based receipt scanning, Shoeboxed saves people time, money and hassle by turning receipts into an organized, categorized, IRS-accepted archive of secure data.
Shoeboxed offers a fully functional free plan, as well as premium plans that include a prepaid mail-in service for physical receipts. Shoeboxed is based in Durham, North Carolina, and has growing offices in both San Francisco, California, and Sydney, Australia.