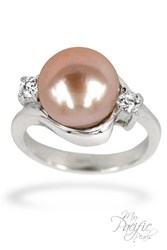 A strong cup of coffee and an "I look good and I know it" pearl necklace!
Dallas, TX (PRWEB) August 07, 2013
Sigh. It's August. Those gorgeous, carefree summer days are coming to an end, and soon it'll be back to business as usual. The kids will head back to school, and parents will devote themselves to work with a renewed focus.
Just because summer is fading doesn't mean fun can't be had, even at work! That's why My Pacific Pearls has put together this guide to wearing pearls every day throughout your workweek.
MONDAY
On a typical Monday, a girl is just shifting gears out of weekend mode before getting caught up in the whirlwind of a new week. What cure can there possibly be for the Monday morning blues? A strong cup of coffee and an "I look good and I know it" pearl necklace! Nothing boosts a bad mood more quickly than looking pretty, and any woman is sure to get compliments galore wearing an attention-grabbing piece, like this elegant necklace of golden and white pearls.
TUESDAY
Now, Tuesdays are a different story. The Monday fog has cleared, and the craziness of the start of a new week has settled. It's down to business today. What better way to convey that focus than with a perfectly professional, classic pearl necklace to accent any look? Whether the necklace is one strand or two, this choice will put one in good company – ever taken a look at the jewelry that first ladies and women politicians wear? That's right. Pearls are the ultimate 'girl power' accessory.
WEDNESDAY
Hooray! It's the midway point! Everyone deserves a boost today to help power through the rest of the week. Go with a pair of dangly baroque pearl drop earrings – when they swing softly against your skin, your mood will lift and it'll serve as a reminder that the week is halfway through.
THURSDAY
Thursday is officially the beginning of the week's downward slope. Keep the momentum going by wearing a diamond-encrusted pearl ring today! With every hand movement, whether it's typing, writing, or even gesturing, its luster will catch the light, and make it easy to finish the week strong.
FRIDAY
Finally, it's Friday! To celebrate the end of the week, go with a fun, casual pearl charm bracelet. The jingle is a perky reminder that the weekend is just hours away!
About:
My Pacific Pearls is a family-owned company and a global leader in the pearl jewelry industry. All items in their collection are offered at the lowest price, guaranteed anywhere in the retail world. My Pacific Pearls' jewelry is known for classic and unique designs, as well as exceptional quality. Each item is accompanied by custom packaging and a professionally prepared Certificate of Authenticity and Valuation. To learn more, visit http://www.MyPacificPearls.com.