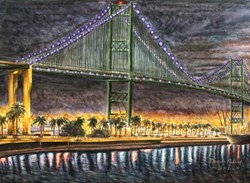 "We are the only art gallery that exclusively represents artists with special needs participating in the launch of the Amazon.com fine art store - Amazon Art."
Los Angeles, California (PRWEB) August 07, 2013
The DAC Gallery, an LA-based art gallery representing 140 professional artists with developmental disabilities, is one of a small number of galleries participating in the new Amazon.com, Inc. fine art store. Amazon Art launched on Tuesday, August 6th at http://amazon.com/art (Search DAC Gallery).
The DAC Gallery is the exhibition space and storefront for ECF Art Centers, an adult professional art program of the nonprofit Exceptional Children's Foundation (ECF). Founded in 1946, ECF provides programs and services to adults, students, and children with special needs at 15 locations throughout Los Angeles County.
ECF's Art Centers program was created in 1968 and has four professional art studios in addition to the DAC Gallery. Under the mentorship of MFA level art teachers, the adult artists at each of these studios are supported with a place to work each day, art supplies, instruction and representation through the DAC Gallery. Artists from each of the studios will be participating in the Amazon Art program.
"We have worked hard to create a professional level art program for our artists with special needs. Being selected to participate in the launch of the Amazon art program is a testament to us reaching that goal," said Allen Terrell, ECF's Art Centers Director. "We are the only art gallery that exclusively represents artists with special needs participating in the launch of Amazon's fine art store - Amazon Art."
In addition to exhibiting their work throughout the region, the DAC Gallery artists have extensive resumes, some having shown at the Smithsonian Institution and the Kennedy Center in Washington D.C., the Armory in New York City, the Los Angeles Art Show, and numerous galleries throughout Southern California.
"ECF has worked hard to make professional art training accessible to people of all abilities," said Dr. Scott Bowling, President & CEO of ECF. "We are excited to partner with Amazon on this project because we believe Amazon is going to make high quality, original artwork accessible to customers of all backgrounds and economic levels."
To see the ECF artwork, visit http://amazon.com/art and search for DAC Gallery.
To learn more about the DAC Gallery, visit http://www.DACGallery.com.
To learn more about ECF, visit http://www.ECF.net.
About Exceptional Children's Foundation:
Serving the community since 1946, the Exceptional Children's Foundation has helped thousands of children, students and adults with developmental, learning and emotional disabilities reach their greatest potential by offering a continuum of lifelong community services. At 15 sites throughout LA County, ECF offers Early Start programs for young children, educational and therapeutic services for K-12 students, adult day activity programs, fine arts training, on-site work activity, supported employment and residential services.