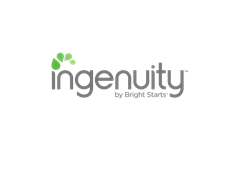 (PRWEB) August 08, 2013
Jennifer Love Hewitt is expecting her first child with actor and costar Brian Hallisay, said the Los Angeles Times (6.4.13) article titled "Jennifer Love Hewitt is pregnant with her first child." For a number of reasons including safety, the couple should consider taking the Ingenuity™ Washable Playard with Dream Centre™ along with them to the set of their show, "The Client List."
Sets of television shows can be extremely dangerous for young children. Miles of cables run across the floor to electrical boxes. There are also lighting apparatuses that move up and down, cameras on tracks and cranes, location hazards and more.
The Washable Playard is both safe and comfortable for a child from birth until a child is able to climb out, reaches the height of 35 inches, or weighs more than 30 pounds. The entire playard, from its soft cozy fabrics in fashionable prints to its breathable mesh, meet the most stringent U.S., European and International standards.
The Ingenuity Washable Playard is also easy to keep clean, even when brought on-location. The playard can be taken apart so all fabric surfaces can be tossed in the washing machine.
In addition to being washable, the playard features an elevated changing table that easily pivots out of the way, a removable organizer tray, and wheels. It can fold quickly, without the need to remove the bassinet. The Soothing Sounds Station on the Ingenuity Washable Playard has five melodies and three nature sounds. The familiar sounds can soothe a baby in strange environments.
Hewitt and Hallisay's baby is due in December.
Ingenuity is part of the Kids II® brand family. The company designs, markets and distributes more than 400 unique baby and infant products. On average, the company launches 100 new products a year.
About Ingenuity™
Ingenuity designs and develops the industry's most intuitively-designed gear for babies, with a focus on smart, easy-to-use products that help parents adapt seamlessly to life with a baby. Every design is based on modern styling and technologically-savvy solutions that were designed with parenthood in mind. Ingenuity is part of the Kids II family of brands. Visit http://www.ingenuitybaby.com.
About Kids II®, Inc.
Kids II has been inventing and reinventing baby and infant toys and gear for more than 40 years and has quickly become one of the world's fastest growing baby product companies.
Headquartered in Atlanta, Kids II spans globally with operations in six continents serving customers in more than 70 countries. Driven by innovation, design and a comprehensive brand portfolio, Kids II is the next generation leader of baby and infant products.
Kids II designs, markets and distributes more than 400 unique baby and infant products, selling more than 22.8 million items per year. On average, it launches 125 new products a year. Under its flagship brands, Kids II has produced more than 100 award-winning products.
The brand portfolio strength runs deep under the Kids II umbrella, which includes its signature brands Bright Starts™, Ingenuity™ and Comfort & Harmony™, as well as licenses to design and manufacture products for Disney Baby™, Baby Einstein™, Oball™ and Taggies™.
Kids II's international affiliate operations are located in Australia, Canada, Europe, China, Hong Kong, Japan, Mexico and South Africa. Visit http://www.kidsii.com/.