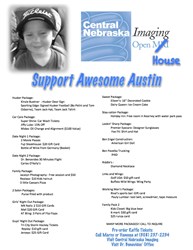 Kearney, NE (PRWEB) August 07, 2013
On October 11, 2012, the Engel family changed. Austin, now a happy four-year-old boy, was diagnosed with Acute Lymphoblastic Leukemia. To help the family battle Austin's disease on a community scale, Central Nebraska Imaging is hosting a children's open house in his honor.
Bring your children, friends, and family to 2714 2nd Ave., Suite B, in Kearney for a day of fun. Activities include a bouncy house, a kids art show featuring artists from three local day cares, a cookie decorating table, a balloon artist, and a temporary tattoo booth. We will also have free food for everyone, and raffles available, thanks to the amazing generosity of more than 40 local businesses. We even have an iPad and a Husker football ready for you to win.
Raffles will also include: Date Night packages, salon packages, Guys' night out packages, Cookie/Cake packages, Staycation package, Eyecare packages, American Girl Dolls, Jewelry, Golf packages, Home Improvement packages and Family activity packages.
Hang out with Y102 Radio reps and support a totally worthwhile cause while having a great time. The event is on August 10th from 11-3. Call (308) 237-2234 for more information.
About Central Nebraska Imaging
Central Nebraska Imaging provides the first state-of-the-art open MRI in Nebraska. The center provides high quality care at nearly a third of the average cost in the area. Central Nebraska Imaging's radiologists review each exam; allowing patients to be notified immediately of the next steps in their care process. This reduces the possibility of repeat exams and reduces the cost to both patients and providers. Newly developed voice recognition software guarantees faster turnaround times on reports and our PACS system permits referring physicians to view images and reports easily online through VPNs.