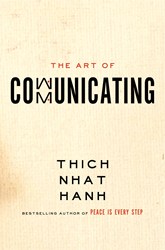 How do we say what we mean in a way that the other person can really hear? How can we listen with compassion and understanding? Communication fuels the ties that bind....
San Francisco, CA (PRWEB) August 13, 2013
When 86-year-old Thich Nhat Hahn speaks, the world listens. International bestselling Zen Buddhist monk and Nobel Peace Prize nominee, more humbly known as Thay ("teacher"), has addressed some of the most important issues of the day, from "The Art of Power" and "Fear" to "Anger" and "Peace Is Every Step." In his latest book, he illustrates that communicating should not be driven by getting what you want, but rather expressing who you truly are.
In THE ART OF COMMUNICATING (HarperOne; August 2013; $25.99 Hardcover), Thay uses anecdotes from experiences working with couples, families, businesses, and international leaders to reveal how authentic expression of self is vital to every aspect of our lives. From self-communication to communicating with loved ones, from the workplace to the community, THE ART OF COMMUNICATING offers a path to mastering crucial listening and speaking skills.
In an era dominated by texting, emailing, tweeting, and posting, Thay suggests that many of us spend much of our time not communicating, and says that utilizing a growing array of electronic devices (mobile phones, tablets, e-readers, video conferencing, etc.) is no assurance that effective or meaningful communication is taking place. Therefore it is even more critical that we practice the art of communicating, from the way we greet our families and colleagues and to how we answer the phone and email; from holding 'mindful meetings' to employing communication to build community. Amongst the back and forth, we must learn to develop the skills of listening, paying attention, and understanding from the heart.
In this highly practical book, Thay shows us the skills we need to transform ourselves, our relationships and our world by learning how to listen and how to be heard. Thich Nhat Hahn will travel to North America including several cities in the United States on a speaking tour (August through October 2013).
About the Author:
Thich Nhat Hanh is a Vietnamese Buddhist Zen master, poet, scholar, and peace activist who was nominated for the Nobel Peace prize by Dr. Martin Luther King, Jr. He is the author of many books, including the classics Peace Is Every Step and The Art of Power. He lives in Plum Village, his meditation center in France, and leads retreats worldwide on the art of mindful living. Thich Nhat Hanh will travel to North America on a speaking tour between August and October 2013. Visit the author at http://www.plumvillage.org and learn more about tour cities and events at http://www.tnhtour.org.
THE ART OF COMMUNICATING
By Thich Nhat Hanh
Published by HarperOne, an imprint of HarperCollins Publishers
On sale August 2013; ISBN: 9780062224675; $25.99 Hardcover
Also available as an eBook and Digital Audio