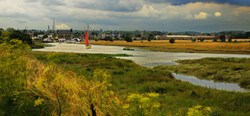 (PRWEB UK) 8 August 2013
Faversham is the heart of the Garden of England, surrounded by beautiful Downs, farmland, orchards and woods, and some of the UK's most attractive and environmentally important saltmarshes.
Tony Grisoni, talking in Broadcast Magazine about why he chose Faversham as the location for Southcliffe, said: "…a strong sense of self: the historical centres, the ever present expanse of sky… the area is my quick escape from the Metropolis – another world just over an hour away from Kings Cross (St Pancras)."
Laurence Young, of Faversham Enterprise Partnership says:
"When we were approached about the filming of Southcliffe we knew it was going to be a gritty storyline. We also knew the film makers were looking for somewhere exceptional as a back drop and, with their pedigree, it was going to be a quality production. So we were happy to help them use Faversham as that exceptional back drop. Now we'd like people to come and see for themselves what a special place Faversham is."
Faversham has a growing reputation for top-quality local food and drink (from food markets to Michelin starred) a flourishing art community and excellent walking. It has its own Magna Carta and - thanks to royal goings-on back to the 11th Century - is one of the few towns in the country allowed to use the royal arms in its own heraldic emblem. Faversham is a haven in the Kent countryside; its calmer, quieter, unhurried way of life has huge appeal for locals and visitors alike.
And that's just the start... Faversham has more than 500 listed buildings and is home to Shepherd Neame, the UK's oldest brewer and Brogdale's renowned National Fruit Collection, the largest in the World, both open to visitors. Faversham Pools offers an outdoor lido (useful in a town that in 2003 recorded the hottest ever temperature in the UK) and Faversham's busy street market is the oldest in Kent. The Creek Creative arts centre has a fine public gallery and the Royal Cinema, itself a listed building, shows up-to-the-minute releases in one of the UK's few remaining big-screen auditoria.
In Faversham you can step in the footsteps of kings (one of few places outside of London to be the burial place of a king and his queen), conjure up the heyday of the UK's huge gunpowder trade (Faversham's gunpowder fired Nelson's cannon at Trafalgar and Wellington's at Waterloo), feast on delicious, fresh local Kentish produce, walk some of the country's finest rural trails and explore its most beautiful gardens and elegant houses.
The town's exceptional array of independent shops offers everything from antiques and vintage to fine art and the best of local produce. Macknade Fine Foods is recognised as one of the top independent food retailers in south east England and the Best of Faversham arts, crafts and food market draws people from far and wide.
Town Mayor and local farmer Cllr David Simmons says: "Faversham is an extraordinary place. The people who live here are very proud of its centuries of heritage and tradition and equally proud to be part of a vibrant and successful community. It is a privilege to serve as the town's Mayor."
Local first-class accommodation makes an ideal base for trips further afield: Canterbury with its soaring cathedral is on the doorstep. Dover, Leeds and Rochester castles are a stone's throw away, as is Chatham's historic dockyard. Whitstable's beach and harbour are just minutes away with Broadstairs and Kent's glorious seaside towns a short drive.
London is within easy reach, served by a High Speed line to St Pancras and mainline railway services to Victoria and Cannon Street. Road links are good too – the town is close to the M2, the A2 and the Thanet Way. The M20 is nearby and continental Europe is on Faversham's doorstep via Dover's ferries and Eurostar services for Paris and Brussels from neighbouring Ashford and Ebbsfleet. Faversham is also on National Cycling Route 1 from Dover to John O'Groats and the National Coastal Path – as well as many others.
FAVERSHAM
Faversham is the quintessential English market town and the premier market town of Kent.
Established since Roman times and mentioned in the Domesday Book of 1086, it sits uniquely between fertile farmland and the high Downs, and the marshes and creeks of The Swale and Thames Estuary. It is a working town with its foundation based on its proximity to the sea, agriculture, strategic location, bricks, brewing, wool, shipbuilding and gunpowder.
For a small town, Faversham's past has been unusually eventful, colourful and varied which has made it the distinctive place with a strong sense of identity and community it is today.
A place the people who live here are proud of and like to share.