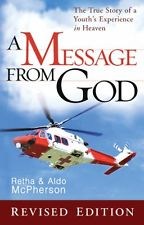 He came back with one message: "Jesus is Alive!"
Shippensburg, PA (PRWEB) August 08, 2013
Destiny Image is proud to announce its most recent addition to The New York Times Bestseller list. "A Message From God", by Retha McPherson, hit #15 on The New York Times Bestselling E-Book Nonfiction List for the week of July 27, 2013.
"A Message From God" is the scripture-based, true story of McPherson's son, Aldo, who, at 12-years-old, was in a car accident that left him in a coma. While in the coma, Aldo experienced the supernatural when he went to heaven, saw God, the angels, Moses and Abraham.
He came back with one message: "Jesus is Alive!"
"Aldo's true-life story and his experience in Heaven offer us an amazing glimpse into the reality of Heaven and the incredible truth of God's love for us. There can be no doubt that God has touched this young man, and his life is living proof," said Ronda Ranalli, head of acquisitions at Destiny Image.
"A Message From God" is available everywhere e-books are available.
Destiny Image, located in Shippensburg, Pa, was founded in 1983 by Pastor Don Nori, Sr. It seeks to accurately represent authors who have a call to share God's present word to His people and to make these authors easily accessible to the Christian body around the world in every form of media possible.
FOR PRESS INQUIRIES, INTERVIEWS AND REVIEW COPIES:
Kristen Adams
(717) 532-3040, Ext. 135
kadams(at)norimediagroup(dot)com