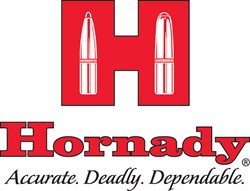 Grand Island, NE (PRWEB) August 08, 2013
Team Hornady members Max Michel and Jessie Duff set new world records at the Steel Challenge World Speed Shooting Championship, July 17-20, 2013 at the University Shooting Academy in Frostproof, Florida. The dynamic duo relied on Hornady bullets to consistently demonstrate speed and smooth shooting skills as they stormed through the competition's eight stages.
Max Michel shot Hornady 115 grain XTP bullets to win the overall World Speed Shooting Championship title in the Open Division, and High Overall in the Rimfire Optic Division. "The accuracy and speed of that load allow me to get to the targets while quickly confirming hits," said Michel. "Performing at that level after many weeks of hard work and training make the sacrifices my family and I made pay off."
Hornady XTP (which stands for eXtreme Terminal Performance) bullets are designed for hunting, self-defense and law enforcement applications, but their speed and accuracy make them an outstanding choice for the competitive shooter.
Jessie Duff won both the Ladies Open Division and Ladies Limited, shooting Hornady 115 grain 9mm HAP bullets. Duff noted, "The Steel Challenge continues to be one of my favorite matches," said Duff. "Setting the new ladies world record of 9.72 is such a milestone in my career!"
Hornady HAP (Hornady Action Pistol) bullets create a sleek and balanced projectile, with a protected nose that aids in consistent and reliable feeding in auto loading pistols.
Founded in 1949, Hornady Manufacturing Company is a family-owned business headquartered in Grand Island, Nebraska. Proudly manufacturing products that are made in the USA, Hornady Manufacturing is a world leader in bullet, ammunition, reloading tool and accessory design and manufacture.
For further information regarding Hornady products, visit our web site at http://www.hornady.com. Media members interested in Hornady products for editorial review should contact Neal Emery at nemery(at)hornady(dot)com.