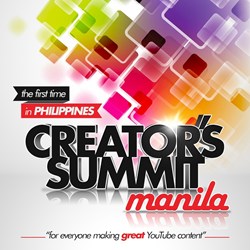 This event is a 'must attend' for brands, media agencies, production companies and anyone trying to communicate with "Generation Y". - Gary MacKenzie
Manila, Philippines (PRWEB) August 09, 2013
Since its inception in 2004, YouTube has grown to become the world's biggest and most popular video sharing platform. The usage statistics are staggering and increasing at a rapid rate. However, behind the impressive numbers lies the real story of how power is shifting from traditional media towards a new generation of content creators.
The "Creators Summit - Manila", hosted by Music Services Asia, is a chance for the most popular video channels in Philippines to meet for the first time. Representatives from the world's most popular video sharing platform will be attending to advise the emerging channel owners - some of them still at college and producing videos in their bedrooms - how to make even better content that attracts and retains a bigger audience.
Neil Cartwright, organiser of the Creators Summit - Manila says, "The Content Creators in Philippines are an eclectic mix of amateurs with a webcam through to professional filmmakers and new media companies. What binds them together is a combination of flair, passion, creativity, some luck and sheer persistence. They're constantly teaching the 'traditional media' how to capture the attention of a digital audience, known as 'Generation Y', and engaging with them in the ways the Millennial Generation have come to expect."
In the US and Europe the shockwaves caused by these new Content Creators are shaking the foundations of at least three major industries - entertainment, news and advertising. This is reflected in the agenda of the summit which includes:

Improve The Quality Of Your Video Production
Trends in Audience Behaviour
Gary McKenzie, CEO of Music Services Asia says, "We are excited to be launching our first Creators Summit in Manila. We chose this city due to the extraordinary range of talent, from animators and vloggers through to professional film makers and studios. This event is a 'must attend' for brands, media agencies, production companies and anyone trying to communicate with "Generation Y". We aim to make this event a regular celebration of creative talent in the Philippines".
Attending on the day will be many of the Top 100 YouTube channels in Philippines (VidStatX) such as:
Lloyd Cadena
Abra TV
Beauty K Love
Ana Victorino
Ra Rivera
Roger Raker
Marcelo Santos
John Andrew Tinoy
Avid Liongoren
xxmiddyninniexx
Macaronisasofa
Event Details:
Saturday 28th September
Sulo Riviera Hotel, Matalino Road, Diliman, Quezon City, Manila, Philippines
Time: 1pm - 5pm
Tickets Prices
YouTube Channel Creators: P400
Business rate: P1,000
Ticket URL:
Media Partners
WhenInManila.com,
Press Contact:
neil(at)valleyarm(dot)com
Website:
http://musicservices.asia/2855/youtube-creators-summit-manila-september-201…
or http://bit.ly/19kcAR6
Facebook
https://www.facebook.com/pages/Creators-Summit/402110569897781
About Music Services Asia
Music Services Asia provides content distribution, marketing, royalty collection and production services for entertainment companies in Southeast Asia. This includes Multi-Channel Networks, digital music distribution, music charts and radio shows. MSA utilises Singapore as the business hub for these services to ensure sustainable growth from a sound infrastructure that is both pro-business and pro-consumer related. Our services include: Asia music charts, business directory (Music Matters Connects), music news (Music Weekly) and consulting.