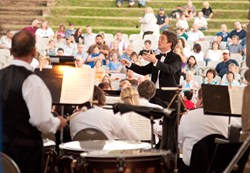 Harrison, AR (PRWEB) August 08, 2013
Like the musicians in the orchestra who follow the movement and interpretation of the conductor, community members of the Harrison area have united to bring the sound of music to residents of our area.
Now celebrating its 48th season in 2013-14, the Arkansas Symphony Orchestra will perform a free concert in Harrison on Saturday, September 7, at 7:00 p.m. in the Bill Baker Amphitheatre located on the south campus of North Arkansas College.
"We are extremely excited to bring an event of this caliber to our community. Many of our students would never have the chance to hear a symphony, so having the ability to expose them to this concert helps us fulfill our mission to provide learning and cultural enrichment," Dr. Jackie Elliott, Northark's president commented.
Geoffrey Robson, the Associate Conductor of the Arkansas Symphony Orchestra since 2008 will be at the podium. He has designed and conducted many of the orchestra's subscription series concerts, as well as its children's concerts and special events. As conductor, he has worked with guest artists such as the Beach Boys, Lawrence Hamilton, Timothy Jones, Henrietta Davis, Christiane Noll, Doug LaBrecque, and Calvin Lee. He also performs as a violinist, frequently appearing in the Arkansas Symphony Orchestra's popular River Rhapsodies chamber series and directing educational outreach to schoolchildren across the state. In addition, Robson writes and produces At the Symphony, a concert preview radio series on KLRE Classical 90.5 in Little Rock, Arkansas.
The program will include the following pieces: DVORAK-Slavonic Dance No. 1 in C major, Op. 46, No. 1, SOUSA – El Capitan, BERNSTEIN/Mason – Selections from West Side Story, arr. Lowden – Armed Forces Salute, WILLIAMS/sig. ed. – Theme from Superman, GOULD – American Salute, RODGERS/Bennett – Victory at Sea, Copland – Hoedown from Rodeo and Tchaikovsky – 1812 Overture.
The Amphitheatre has hosted Canadian rock band Loverboy, the Little River Band, Charlie Daniels, Eddie Money and many others.
The event is free to the public through the sponsorship of North Arkansas College, Harrison Daily Times, KHOZ radio station, along with the Arkansas Arts Council, Dr. Joe Bennett, Dr. and Mrs. John Leslie, Mr. and Mrs. H.K. McCaleb, Jr. and others who have provided private donations to the North Arkansas College Foundation to bring the Arkansas Symphony Orchestra to Harrison.