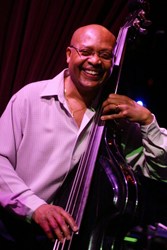 The Bronx has a long history of musical, artistic, and literary talent.
Bronx, NY (PRWEB) August 08, 2013
The Bronx Music Heritage Center (BMHC) Lab's acclaimed series Bronx Rising! continues in August with three nights of "Salsa Month" programming. Curated by folklorist Elena Martínez of City Lore and Grammy-nominated musician Bobby Sanabria, the on-going series showcases the breadth of arts about the Bronx, by Bronx artists or significant to the borough's community.
Music: Ray Martínez and Cuerda y Tambo
Thursday, August 15, 8:00pm
A prominent bassist/arranger in the contemporary Latin and Salsa music scenes with a percussive style that is both melodic and hard-driving, Ray Martínez has composed, arranged, recorded, and performed with Latin jazz legend Mongo Santamaria. He has also recorded and performed with Tito Puente, Celia Cruz, Ray Barreto, Johnny Pacheco, and others. Additionally, he has participated in recordings with Paul Simon and has performed in two world tours with David Byrne.
Film: Our Latin Thing and Q&A with director Leon Gast
Friday, August 16, 8:00pm
Academy Award winner Leon Gast (When We Were Kings, 1996) presents his 1972 documentary featuring the sounds of New York's top Latin bands in the 1960s and 1970s. Paying tribute to the legendary Fania All-Stars, the film presents an assortment of the group's biggest hits from artists such as Ray Barretto, Willie Colón, and Johnny Pacheco, which helped popularize the genre to a wide-scale audience.
Palabras/Words: Reading from Mambo Diablo: My Journey with Tito Puente by author Joe Conzo
Saturday, August 17, 7:30pm
As Tito's confidant and chronicler for nearly 40 years, Joe Conzo has put together a comprehensive biography replete with captivating anecdotes from their lengthy friendship. Conzo's book details both the public persona of the widely popular and sometimes combative King of Latin Music, while also highlighting many deeply personal moments of Puente's rise to fame from the East Harlem barrio. Conzo will conduct a Q&A and a book signing as part of the event.
There is a suggested donation of $5 for each performance. The BMHC Lab is located at 1303 Louis Niñé Blvd. in the Bronx. Take the 2 or 5 train to Freeman Street.
"The Bronx has a long history of musical, artistic, and literary talent emerging from here," says Martinez, the co-producer of the ALMA-award-winning film, From Mambo to Hip Hop, about the creative life of the South Bronx. Sanabria adds, "Bronx Rising looks to our roots and our future; it has made the BMHC Lab an epicenter for some of the always-swirling creative juices of the Bronx."
Bronx Rising! is co-sponsored by City Lore and is supported by a grant from the New York Council for the Humanities. BMHC programming is made possible with support from The Kresge Foundation, Deutsche Bank Americas Foundation, and The Rockefeller Foundation Cultural Innovation Fund.
About the Bronx Music Heritage Center:
The Bronx Music Heritage Center (BMHC) celebrates the rich history and creative spirit that defines Bronx music, from jazz, salsa, R&B and hip-hop to new sounds coming to life across the borough. Founded by the Women's Housing and Economic Development Corporation (WHEDco), the BMHC is committed to preserving and promoting Bronx music, cultivating Bronx artists, spurring neighborhood revival, and providing free cultural programs for the community. The BMHC presents performances and other events at the storefront BMHC Lab in Crotona Park East, and at venues across the Bronx. For more information about the BMHC, please contact info(at)bronxmusic(dot)org.
About WHEDco:
The Women's Housing and Economic Development Corporation (WHEDco) has worked for over twenty years to build a more beautiful, equitable and economically vibrant Bronx. WHEDco reaches over 35,000 people annually through energy-efficient, healthy and affordable homes; early childhood education and youth development; home-based childcare microenterprise and food business incubation; family support services; and arts programming. WHEDco.org
About City Lore:
City Lore was founded in 1986 and its mission is to foster New York City – and America's – living cultural heritage through education and public programs. The mission is to document, present, and advocate for New York City's grassroots cultures to ensure their living legacy in stories and histories, places and traditions. City Lore's programs include the People's Hall of Fame, the Place Matters Awards, Arts in Education programs in the schools, and an interactive story map of New York. cityofmemory.org.
Programs subject to change – visit bronxmusic.org for updates.